Billy Bragg and The Blokes
England, Half English (Elektra Records)
By: Alex Steininger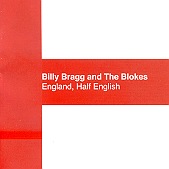 Political activist and singer-songwriter Billy Bragg is back with his band, The Blokes. England, Half English finds Bragg doing what he does best, writing political folk-pop songs, deep enough to seep into your subconscious and allow you to soak up the message. But, palatable enough to make you want to sing along and play the record for fun.

A fine line to walk, a line that most never balance, with the majority either watering everything down to the detriment of their message, or they shove the message down your throat so you don't even want to hear what they have to say.

Bragg is classy and sophisticated, and knows when to do what. Like on album standout "Take Down The Union Jack," Bragg makes his point about his country, placing his words in a slightly-campy, melodically rich frame, using only his voice and guitar to convey what needs to be said.

Then on a song like "St. Monday", Bragg and The Blokes make a bouncy, hook-laden song sound both fun and meaningful.

The title track finds the band delving into a rocking swing song, Bragg using humor to make you laugh as his subtle message makes its way into your mind.

"Another Kind of Judy" is a warm pop song, one with a sing-along chorus, and the hooks to make this one of your favorite tracks on the album.

Album closer "Tears of My Tracks" has Bragg and company playing a mellow, melodic folk number, brought to life by the organ that glows in the background (and carries the melody), while Bragg's accented words ring over the lightly peppy tune.

A rare breed, Bragg knows how to write commercially appealing, brilliant pop and sing-along folk songs that seem to have no other agenda than to have fun, all while voicing his opinions and message. If one didn't know it, it might pass them up, which seems to be the way Bragg wants it, preferring to speak to those that get it, and giving the rest beautiful melodies. I'll give this an A.