Bright Eyes
There Is No Beginning to the Story EP (Saddle Creek Records)
By: Alex Steininger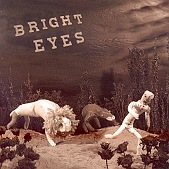 Conor Oberst is back with another collection of Bright Eyes tunes, following his break from Bright Eyes as he rocked out with The Desaparecidos. With that out of his system, he's ready to once again submerge himself in the heart-on-the-sleeve, primitive emo that has made him an indie star.

On "From A Balance Beam", Oberst starts things off with a shaky pop song, one that seems to be held together with the most fragile of notes, as Oberst's voice rivals the music, both racing to see who is going to crack first.

On "Messenger Bird's Song" Oberst quiets things down, as the melody whispers in the background, with Oberst's voice the domaniant force here.

And "Loose Leaves" is a jangle-y, lo-fi sounding pop ditty, one that shows Bright Eyes' ability to write solid pop numbers. However, Oberst's voice just doesn't have the range to pull off the bouncier pop songs, with its enduring qualities wearing thin when the focus is the melody over the bleeding heart emotions that make his shaky, limited voice so golden for his songs.

A solid EP, though Oberst seems to be more suited for the rock of The Desaparecidos or the indie-emo of his other work, rather than pop. But he is getting more ambition musically (which is great, I do give him credit for always taking chances). However, his voice just can't keep up with his musical skills. I'll give this a B-.