My Morning Jacket
Chocolate and Ice EP (Bad Man Recording Co.)
By: Alex Steininger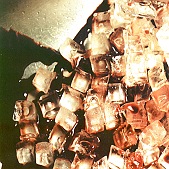 Over forty minutes of music and only six tracks, My Morning Jacket's Chocolate and Ice EP is good when the music is there. But the four minute voice message entitled "It's Been A Great 3 or 4 Years" is a bit annoying, as is the twenty-four minute track "Cobra", which morphs enough time to warrant being broken down into a few different songs.

Except for those drawbacks, the glorious, lush pop that collides with the slightly psychedelic mood creates an atmospheric sound that can fill out any background, becoming the near-perfect backdrop for any occasion.

And though listening to the album is a chore if you listen to it all the way through, thanks to the CD player's skip button, if you skip tracks three ("Cobra") and track 4 ("It's Been A Great 3 or 4 Years"), you'll enjoy the twelve minutes that remain. I'll give this a C+.