Rosey
Dirty Child (Island Records)
By: Alex Steininger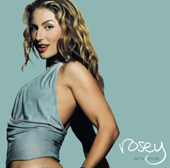 Pop diva Rosey's Dirty Child is a hit out-of-the-box, a mixture of soulful attitude, radio friendly pop, sexuality, and character, something that is lacking in mainstream pop (see Britney Spears and Christina Aguillera).

More mature, and a hell of a lot hotter, than the previously mentioned pop stars, if Rosey has anything in common with a current pop diva, it would be Nikka Costa.

Rosey writes or co-writes her songs, allowing her to voice the songs as they should be voices, rather than having some producer tell her what emotion to sing. And, as a result, songs like the sultry "One", the glorious pop-folk of "Desperate", and the R&B groove of the title track ensure Rosey will have a hit on the radio - soon.

Another thing that makes Dirty Child such a standout in its field is the rocking moments, like on "Desperate", as Rosey slips from a danceable R&B style into some jagged rock guitars before bouncing right back into the soul-hip-hop that treads underneath the song.

Packed with a voice and a penchant for writing accessible, cross over hits, Rosey will have her day in the sun. Dirty Child is strong, diverse, and keeps itself from getting stale by preferring to maneuver and take chances over playing it safe. I'll give this a B.