VARIOUS ARTISTS: Don't Let The Bastards Get You Down
A Tribute To Kris Kristofferson (Jackpine Social Club)
By: Alex Steininger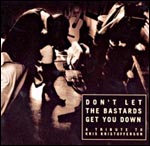 Kris Kristofferson changed country music. "If it sounds country, man, that's what it is: It's a country song," he once said, and he meant it. Before there was outlaw country, there was Kris Kristofferson, writing tales of the downtrodden, broken, alcoholics of the world, the love and sorrow of living, introspective thoughts on relationships, as well as stories of everyone that had good intentions but screwed up in the process.

A tribute to Kristofferson is only fitting, and thanks to Jackpine Social Club, a seventeen-track collection of Kristofferson renditions help re-invent and re-establish Kristofferson's songs. Showing that, no matter what light you view the songs in, a great song is still a great song, and that the power and passion that fueled Kristofferson is transferable to other artists through his music.

Polara's dark, space-pop interpretation of "Just The Other Side of Nowhere" is at first eerie, but upon further inspection, soothing and calm, a peaceful, melodic take on one of Kristofferson's most poetic offerings.

The Mother Hips make the melancholy "Sunday Mornin' Comin' Down" sound refreshed and ready to live on, echoing with its dim melody and rustling rhythms. While Hannah Marcus and Mark Kozelek turn "Lights of Magdala" into a beautifully soft breath of fresh air.

John Doe turns in a slow, methodical dusty trail rocker version of "Me and Bobby McGee". Covered by the shadows of the night, illuminated only by Doe's dark, gruff voice, he spills out the infamous line "freedom's just another word for nothing left to lose, nothing ain't worth nothing, but it's free" as if he had written it himself.

Oranger, Jon Langford and Chip Taylor, Kelly Hogan, and others turn out exquisite tributes to Kristofferson. Songs like "Casey's Last Ride", "The Law Is For Protection of the People," "Jesus Was A Capricorn", and "Why Me" take on a new life, one that is equally as fierce and brave as Kristofferson's originals. I'll give this an A.