Warren Commission
Tricked By Cleverness (Espo Records)
By: Alex Steininger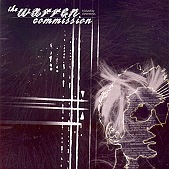 Sounding a little like Rainer Maria, The Warren Commission's third release (second full-length), Tricked By Cleverness, finds the band banging away, cranking out lightly melodic, rough indie pop propelled by jagged guitars and a sweet spot to boot. The songs wind and turn, as a female and a male trade off on vocals, trading between fragile and passionate to loud and durable.

The songs are catchy, well written, and offer up the perfect release for any mood. Whether it is the urge to sit back and relax, get up and move around, or you're trapped between the two, Tricked By Cleverness has two sides - loud and soft - that will cater to you. I'll give it a B+.