Sonya: Let's discuss your work with Genowen. Who are the members of Genowen, and what are their contributions to the band?
Jyri: Genowen consists of Sean Sonnet (most known for being the singer of 3sks), and myself. With a whole slough of guest musicians. Sean is really the "brains" behind the project, being the singer and lyricist, as well as writing the bulk of the music itself. My contribution is violin and keyboard parts mostly. We are both very excited about the array of guest musicians that are going to be contributing to this album as well. We are planning on having at least one guest on each track of the album, which I believe will add greatly to the diversity of the sound.
Sonya: Please give us some insight into the music of Genowen. How would you describe the music that Genowen unleashes?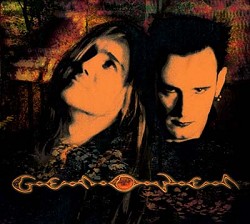 Jyri: The idea behind Genowen is to create a timeless, soundscape of music that is appreciated by all. Much in the same way that bands (such as Dead Can Dance) have managed to do. This is a very mature and refined project. The lyrics consist of honest, controversial truths, while the music is very orchestrated, spiritual, and beautiful.
Sonya: Given the projects with which you have been involved, what is the concept that binding you to the music and musicians of Genowen?
Jyri: Sean and I have worked together for years, and though we both have had our share of disagreements, we both hold very similar beliefs when it comes to myths, art, and spirituality. We both share the same vision when it comes to producing the finished creation of our music. One of the great things about this project is that neither of us are bound by the restraints of being in a band. We can write and create at our own pace and actually do most of the writing and recording away from each other.
Sonya: What do wish to express through Genowen?
Jyri: I believe the main things that Sean and myself are trying to express within this piece of work are sincerity and truth. I suppose this may come as somewhat of a strange concept for an album, but it's the bottom line theme throughout the music and lyrics.
Sonya: What is it about the sound of Genowen that most liberates you as a violinist?
Jyri: Well, as I mentioned, I do most all the recording and composing of my parts away from Sean. This permits me to get "lost in the moment", so to speak. I find that I am more spontaneous and creative in my writings when I work alone. Often, when playing in a rock band, my parts are compromised due to the sheer volume and mass of guitars, drums and bass. Because this project is based largely on orchestration, I find that I am able to draw from a much larger array of ideas. Many of these ideas originate from my classical background, and I have been able to really let the instrument excel within this environment.
Sonya: I have always enjoyed the poetry of Sean Sonnet. What lyrical and musical magic do you and Sean now weave together through Genowen?
Jyri: The music is very surreal and dream-like. It takes you on a journey illuminating stories of myths and truths. The lyrics contain much imagery. Here is a lyrical example from our debut single, "Afraid of gods":
Well I'd like to tell the story of a god
Who thinks he's holier than thou
Amidst the tricks of shame
Fear and fate makes it easier
I see them falling down
I stain my heart with color
I claim my soul, and make it my own
I climb your highest mountain
To see your world
And watch it burn down
Sonya: Where might listeners be able to obtain the music of Genowen?
Jyri: Sean and I are working towards a fall release with this album; however, in the meantime we do have a new single called "Afraid of gods". This will be featured on a gothic compilation album called "Trinity". This is due out sometime in July or August, I believe.
You can find more information about it at: http://www.starvox.net/news/news.htm
The website for Genowen will be http://www.genowen.com and we are currently working on this. We will certainly post any news of single releases and mp3 links from the site; so if it's down (due to construction), please do visit it again.
Sonya: What can we expect from Genowen in the near future - what are your recording and touring plans?
Jyri: Currently we are so focused on the writings of the project that we haven't honestly looked much further than this. I know both of us love to tour, so I would imagine that this would certainly be a possibility in the future.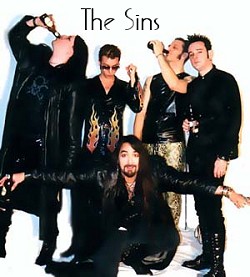 Sonya: Now, I would like to discuss The Sins. Please tell our readers a bit about the members of The Sins.
Jyri: The Sins consists of Nightmare Boy, our fearless front man on vocals and guitar; Dexter Fauxe on bass; Kris Killian on drums; Lee Tillman on guitars; and myself. All of us have different musical backgrounds and have all played in numerous projects which really seems to add to the overall essence of the band.
Sonya: The Sins sound is often described as "darkwave" - please elaborate a bit on your personal definition of the sound of The Sins.
Jyri: Well, I guess first off, I really don't think of the bulk of The Sins' music as Darkwave, but it is certainly Dark Rock with a flare of post-punk, Death Rock sound mixed into it. The Sins are very much a high-energy band and we love to play live shows. We play out about every other weekend, and the great thing about this band is its diversity. We have played Cowboy bars, Goth Clubs and crack bars out in the middle of ten buck two. Somehow, we always walk away with people enjoying our performance.
Sonya: The Sins seem to take on a very personal approach to the music - with each artist focused on their area of expertise. The sound that comes through is intense and aggressive, yet beautiful. What is it like performing live with this talented group of musicians?
Jyri: It's a fucking blast! There simply is never a dull moment with this group! We put on one hell of show and love doing it! I suppose we could be called a "party band", but what the hell, we love doing it!
While we were working on the album, we actually had to slow down a little and think about what we were doing (which, I think, was a challenge for some of us) but we still managed to drink six cases of beer in two days and walked away with seven finished songs. Each member is talented enough that generally, in the studio, it's one take, and we're done. Things move very fast with this band, whether we are playing out or recording.
Sonya: When will a full length CD be available from The Sins, and where might listeners obtain a copy?
Jyri: Our full-length album, "The Beginning", is completely recorded. We are currently working on the mix-down and mastering, and we should have the album out sometime in July. Fans can always obtain the latest news of our happenings on our website.
Sonya: Tell us a bit more about "The Beginning" - which of the tracks from your EP (if any) will be on this full length; and will they be in their original form?
Jyri: As it currently stands, the album will have eleven or twelve songs on it, including all of our latest material. I believe that all the songs that were on our demo EP (which was never really released to the public) will be featured on the album; however, we did re-record many of them. Dexter and I also added some keyboard work on a few of the songs, which really enhanced the overall sound of the album.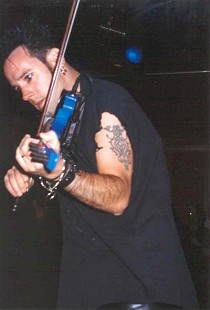 Sonya: Can you give us any hints as to what else is in the works for The Sins?
Jyri: Gawd, there are many things coming up in the near future for the Sins. In addition to releasing our debut album this year, we are playing several large festivals throughout the Northwest, and we have plans to film a music video. Nightmare Boy will also be featured in a short film about one of his multiple personalities, "Mr. Thicket". We have also discussed several short tours later this year as well. There is always something going on with this band! We don't like to sit still!

Sonya: Where is the music leading you, Jyri? What would you like to accomplish as a violinist? As a musician?

Jyri: Raw Emotion is what I aim for as a musician! Obviously, the music changes depending on what type of emotion I am trying to convey. I am not trying to save the world with some revolutionary bullshit message. I just want people to experience "feeling"! So much of today's music scene is numb and void. It simply lacks any emotional impression whatsoever. I personally have always utilized music as my medium to channel my feelings, so that is all I desire to continue doing in the future. Where this path will lead, I do not know.