INTERVIEW: Miles
German Rock Band Invades The States (Feel Record's Web Site)
By: Alex Steininger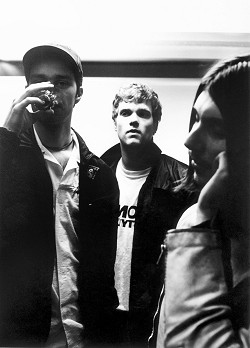 "Structure vs. Happiness has a new running order and a new cover but nevertheless it's a compilation of the last two records we made," says Tobias Kuhn, lead vocalist/guitarist for Miles, a German rock band set to make their U.S. debut in July on New York-based indie, Feel Records.

Structure vs. Happiness is a compilation of Miles' two records, The Day I Vanished and Miles, both unavailable in the States. It's a virtual "best of" retrospective, though Kuhn is hesitant to call it as such because that would be "too established."

Though the two albums may now be on one CD, they're individual entities with very different recording processes. "The Day I Vanished was recorded in 1998 near Munich with producer Olaf O.P.A.L," Kuhn says. "We had written and collected songs over the last two to three years and just recorded them without any concept. Most of these (kinds of) records are very refreshing -- less sophisticated in terms of production and arrangement but far more human.

"The next one was recorded with the same producer in D?sseldorf. After nearly 10 years of indie-rock we wanted to give some songs a different look. We worked on several tracks with the Munich Symphonic Orchestra and arranged most of the songs in the studio. We just didn't want to do the same record again and at that time it just was necessary to take a second step, in terms of music, even if it perhaps would be a bit confusing."

The band's new bassist, Nina Kraensel, loves the idea of the "best of" record, which gives her a chance to play a lot of the older material as if new. "For me it feels like big fun playing the 'greatest hits' set list," she says. "I joined the band ten months ago and just played two shows with the guys last fall. I discover the old songs in a way that really pleases me -- I get the chance to rock a bunch of great combined chords without having worked for it really hard, except the rehearsals. I think it's a great gift to me to get the chance to play the old songs 'cause they sound still fresh and exciting. I imagine it for the boys also being a bit exciting." She is quick to point out, however, that she likes the new songs best because "that is what I consider my part."

"I think with the first release in the U.S. we wanted to give people the entire picture of Miles and not only a part," Tobias says, further explaining the reason they released a compilation rather than an album already available overseas. "It's great to put out a record with totally new artwork as a compilation. It's great to pick the 14 songs you like most and which still are strong after these years. Most of these songs are still in our live set; this is always the best proof."

How did the band decide on the comp's track listing? "All of us had a listen to the material and picked the ones which we still enjoy," says Tobias. "There was a general consensus between the band and Eric and Brady (Feel Records owners). Most of the songs are still great, so it wasn't so difficult to choose. Many songs from Structure vs. Happiness are still in the live set, which is always a good sign."

The band has already started to make a splash in the U.S. on the verge of the album's release. Alternative Press recently placed them on their "Top 25 Global Bands That Will Kick Your Ass" list, which also included Zero 7 and Clinic, an honor the band isn't taking lightly.

"It's really cool. I would be lying if I'd tell everybody I didn't (care)," says Nina. "I saw Clinic and I like their tunes. They are from the U.K. and you always look at bands from overseas in a different way. And when you're listed in the same statistic, what a feeling! As a European, or even worse, as a German musician, it's like succeeding in a special way. I said worse because in my opinion, German musicians seem to have it harder than others do. English, Swedish, or American bands are able to use structures and traditions we just don't have. It's kind of growing and opening up, but still rather difficult to catch the attention of people from other countries, from the UK and USA especially. Overseas everybody seems to play in a very, very fine band, so who needs another European bunch of guys who try to rock? On the other hand, good music always finds its way. So I take it as a sign for quality that people notice Miles."

But when asked how they feel American consumers and music fans are going to react to their record, the members of Miles are hard pressed to come up with an answer. They want to let the music speak for itself.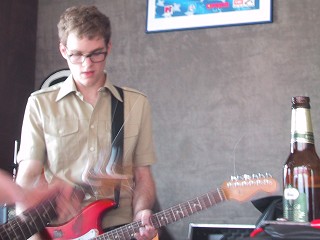 "This is far to much business," Tobias tells me. "I try not to think about how it will fit into the market of a country or why someone should buy a record. It's about loving music, getting excited about new bands you read something about or listen to at a friend's home. I love music and I love to write songs and I like to tour. And I'm glad that I'm able to do this."
"I agree with Tobi," replies Nina. "It should not be so much business, so much thinking, so much calculating. We play our music because we want to, because we have to. Sure, you have to get the bills paid, but it's a pleasure to release a record in the states. I think Structure vs. Happiness is a very good start for Miles in the USA, so people can get into it."
With the impending release of their first U.S. record, the band isn't staying idle. They are currently in the studio recording their third full-length, which is nearly and set for an autumn release in Europe and Japan.
"This time we are trying to make a band record," explains Tobias. "The aim is to get a more natural and earthy sound. We stuck to the arrangements we worked out during rehearsals and produced it together with an engineer."
"From my point of view the new record perfectly paints the state of where the band is and feels right now," adds Nina. "It's a new start, it's right out of the heart. I really like the lyrics Tobias wrote. Seems like when you're getting older, things still don't cool off. The lyrics really go together with the music and I appreciate that. It has to be a union and Tobias made it work with the words he found." Look for Structure vs. Happiness in your local mom & pop store come July 2nd.