SHOW REVIEW: KMFDM w/ 16 Volt and Kidney Thieves
Sturm & Drang Tour -- Roseland Theatre - June 1, 2002 (Portland, Oregon)
By: Vapor Trail
Photos By: Sean Strauss



Kidney Thieves were excellent. Having never heard them I was expecting something completely different. The singer's voice was beautiful. They had a good stage presence. They were just all around good.

16 Volt wasn't quite what I was expecting either. They definitely knew how to work a crowd. They had a little more of a Nu-Metal (Papa Roach, Disturbed...etc) sound that works well but not really what I'm all about. They had great energy. I like seeing singers that will jump off stage and run around in the crowd. It adds a little more personal touch.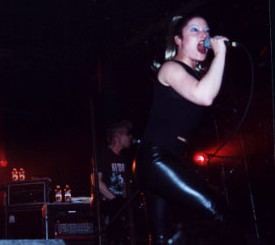 What can I say about KMFDM? That was the best live performance I've ever seen. The whole room was moving, including the people in the balcony. The classical music intro was brilliant. It built up so much anticipation before the band took the stage you could feel the audience almost ready to snap. Only more tension built after they took the stage and stood motionless until Sascha's entrance. Then the crowd went wild as the show began.
Raymond Watts and Lucia provided unbelievable energy to the show, with Watts climbing all over everything and soaking the audience with drinks. Lucia's beauty was somewhat deceiving as her piercing screams were some of the loudest and harshest parts of the show. I would have liked if Sascha played a bigger vocal part in the show, instead he stayed behind his equipment a lot of the time, but still kept an undeniable presence on stage.
I'd never KMFDM live, only taped performances, so I never really got to feel the "ultra heavy beat". They aren't joking. I spent most of the performance just standing there in awe. It was better than I had imagined all the way through. And the second encore.....that blew me away.
If I had 2 questions to ask the band they would be:
1. Where were Skold and Dorona? I didn't see them or maybe just didn't recognize them.***
2. Did Sascha say that was the first time they played Spit Sperm live?
***Later while reading an article from Rolling Stone I found that Tim Skold will be playing bass on the next Marilyn Manson CD which is due for release sometime soon. I thought this was a possible explanation of his absence.