Roger Clyne and The Peacemakers
Sonoran Hope and Madness (EmmaJava Recordings)
By: Alex Steininger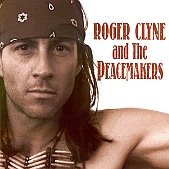 Former Refreshments front man, Roger Clyne's first post-Refreshments disc, Honky Tonk Union, also recorded with his new band, The Peacemakers, was halfway between The Refreshments and Clyne's latest release, Sonoran Hope and Madness.

Where Honky Tonk Union thrived on Arizona pop music, catchy melodies burning with the dusty, scorching heat of the desert, and plenty Honky Tonk heritage, Sonoran Hope and Madness leaves behind the pop ambitions and goes straight for the desert rock.

An eclectic rock offering, one the encompasses South of the border influences (the title track), gritty country-rock ("Colorblind Blues"), and crying in your beer ballads ("The Ballad of Lupe Montosa").

Clyne and The Peacemakers have proven once again that strong songwriting, a genuine voice, some guitars, and a tale to tell will take you places. And Sonoran Hope and Madness takes you places. I'll give it a B+.