Cosmo Topper
Pure Fast Vibration (Mogley Be Music)
By: Gary "Pig" Gold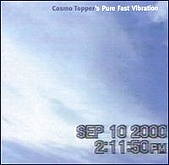 Crazed in its comically cool complexity, yet never falling short of remaining wholly beatific in its bountiful bombast -- whew! And that took me a WHILE to come up with, I'll have you all know -- Morley Bartnoff and his heavy friends, dba Cosmo Topper, have finally unleashed their flawless, seamless 42-minute song cycle over the world at large.

A thinking man's Breetles (or perhaps even Beatles!), this is the sound of Andy Partridge and/or Todd Rundgren hijacked by the powerful popping sensibilities of L.A.'s undersound musical elite: various Negro Problems, Daisychains, and even Wondermints can be detected hearin, need I namedrop more. That said, singling out any single songs for abundant, much-deserved praise could possibly prove counter-productive in Cosmo's overall scheme of sonic things (though may I now nominate "Soulmate of the Month" as Songtitle of the Year?), yet "For-- The Time Being" features angelic back-up choruses seldom heard since P. Spector last scaled his particular Wall of Sound, and "Topper Takes A Trip" actually constructs the long-lost mystical, musical bridge between "Tomorrow Never Knows" and Satanic Majesties-era Stones (yes, somehow Morley seems to have eavesdropped upon some otherworldly John Lennon/Brian Jones duet!)

Suffice just to say then that the concluding 12-minute salvo, extremely aptly called "Revolution # 9 and 1-2 Weeks," makes mincemeat out of all P. Townshend's schlock-opera'ing of olde, coz unlike "Tommy," "Q-phenia" et al, once "Pure Fast Vibration" has wound to its close, you'll be skipping immediately back to Track One in order that you can embark on a return trip, if ya catch mah drift.

So then! Dance the Dream Awake, as MB himself would say, and get (and PLAY) this one, again. And again. And then again.