INTERVIEW: Boss Martians
Reinvent, Reinvent-vent...Boss Martians catch a new wave on Making The Rounds
By: Randy Harward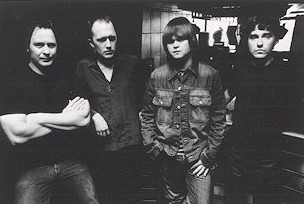 (Previously published in Salt Lake City Weekly)

As a band, once you've established, fans come to expect a certain sound. Any deviation is viewed a betrayal, or worse, selling out. It warrants asking, then: is reinvention a right or a privilege?

"That's a tough one, really," says Boss Martians frontman Evan Foster who, on Making The Rounds (MuSick), has put a new, song-oriented garage pop engine in the Martians' previously surf-instro chassis. Not so tough, though, that he can't deliver an informed, utterly convincing thesis. Citing artists like David Bowie and AC/DC, he asserts that reinvention is actually an imperative or a simple non-issue. "The key parallel between these two longevity-oriented artists is honesty. Bowie, being the chameleon-like, focused business mind that he is, is a master of reinvention, staying up on emerging trends and musical technologies and reinventing to stay on the vanguard, whereas the brothers Young and co., being the rock and roll machine they are, are masters of rock and roll; plug the SG's in, turn up, and deliver the goods...no need to reinvent for trend's sake. And if you ask me, the fans of either artist wouldn't have it any other way."

Some of the Boss Martians' less flexible fans would, though, as evidenced by some recent online battle royals. But on the whole, says Foster, fan reaction to the new sound has been largely positive. And it's not entirely new. 2001's Move! (Dionysus) had already flirted with the swirling 70s vibe, and the band had released an album of power pop/Brit/garage-influenced tunes under the name Mystery Action. Foster was feeding two needs simultaneously and it was only natural that the two sounds were combined.

"Exploring more unique and quirky pop territory of bands like Small Faces, The Creation, The Action, the Jam, The Buzzcocks, Cheap Trick, You Am I, Faces, Humble Pie, Elvis Costello, the Damned and Nick Lowe was really inspiring my songwriting, which was something I needed at that time. I started singing more intensely and emotionally and it made me want to grow a lot more as a guitar player."

Playing the Mystery Action songs live was further inspiration, and when it came time to deliver another Martians album, the sounds began to mesh. The surf guitar/garage rock tones remained largely intact on Move!, but the change had been catalyzed. Foster and organist Nick Contento were writing for Making the Rounds even before Move! was completed and after a small tour supporting Foster swapped out his rhythm section, enlisting drummer Jason Reavis and bassist Steve Davis, and started playing the new stuff.

As Foster prepares for the May 7 release of Making The Rounds, he's optimistic. Naysayers are part of the game, but knowing he's remained true to his muse is golden. "You've got to write and play what is in your heart, be it new or more of the same and I'll say this: doing it when you know fans who really supported your work in the past may no longer feel the same way is scary. But, to counter that fear, you've got the excitement of the new. People who've never heard of you may become fans. As the Shadows of Knight sang, "Tomorrow's gonna be another day/yeah yeah, yeah, yeah, yeah."