INTERVIEW: The Fucking Champs
Arrivals and Departures
By: Randy Harward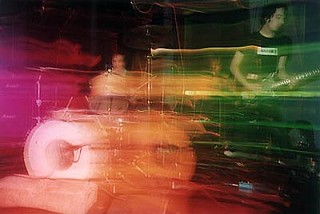 (Previously published in Salt Lake City Weekly)

No one can pinpoint the exact date in which it became cool to affectionately reference a musician or band with the present tense of the world's most popular expletive, but its most influential...and profound...usage can be attributed to Sir Yngwie Fucking Malmsteen in the early-to-mid eighties. The megalomaniac guitarist's T-shirts set the maxim teetering on the edge of the catch phrase chasm, but somehow it endured, allowing countless fans to refer to their musical faves as Motley Fucking Crue or Pablo Fucking Cruise. And, in one case, it became part of the Greatest Band Name Ever.

Originally, the trio of guitarist Josh Smith, guitarist Tim Green and drummer/guitarist Tim Soete...formed 1995 In Berkeley, California...was called C4AM95. The vanity plate configuration spells "CHAMPS," a name that was off-limits due to the existence of the 50s-60s surf band from which Glen Campbell and Seals and Crofts sprouted.

The tag would only last for the band's first album, III (more on that shortly). After it was released, the band's thick, mostly-instro guitar soup would breed devout fans who honored the band by showing up to shows with handmade white T-shirts with a Sharpie-scribbled logo: The Fucking Champs. The band decided it would be a good switch. "If you're going to change your name, the big danger is you don't know you're the same band. I figured if we chose the stupidest and the most annoying variation possible that still kept the original word in there somewhere, people would talk about it, promoting it for you by word-of-mouth. Now there are ads in the paper for The Fucking Champs and we never seemed to lose any attendance or anything, so--mission accomplished."

It's a more logical rationale than most would assume, as The Fucking Champs exist...by association...in the pretentious indie underworld, where such a name, not to mention the band's largely metallic, jazzy progressive rock, simply must be derived from some bit of cheeky irony. Not so, says Smith.

"[Stylistically, indie] implies this sappy, sentimental, dull approach that has absolutely nothing to do with what we do. There's this hegemony of influences: if you're not influenced by Television and the Velvet Underground and all these very specific, often New York-related things, there must be some sort of leg-pulling going on, which is really bizarre and arbitrary." By the same token, he continues, the band has little to do with the metal world. TFC is more about finesse and craftsmanship, than speed and brutality. "It just seems like things are based on some weird quantification of the music. I don't know why things have come to that, but it's always made us a little mad, because we put so much time and effort into this and we sort of "mean" every note. If we wanted to be making a joke, we'd be wearing Spandex."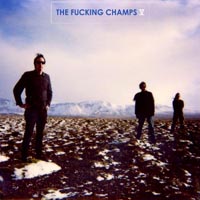 The deliberation is evident throughout the band's discography, from III to their current release, V (all on Drag City, incidentally). The double-disc III, says Smith, was titled and composed with the intent of charting a course parallel to that of Led Zeppelin. "We wanted to skip right to Led Zeppelin III," he laughs, "to get to Physical Graffiti sooner." The record would be a test drive, a mish-mash of sounds and textures to see what worked and what didn't, an intentional flop. "It was sort of like, the flop record where you try to do too many things, just like Led Zep III."
IV would see the band checking out the other side of the fence, toeing a more conventional line with more streamlined, straightforward fare, mostly guitars and drums. V is a homogenization of the two records, albeit with III's "departure-y" tendencies dominating. Smith feels like it sounds the most consistently like TFC, "[although] it's a little more involved."
A little? And it's more of a guitar stew, than a soup. Smith, Green and Soete may well be the biggest guitar geeks on the planet. V's juicy jams such as upward spiral "Never Enough Neck (Pts. 1 & 2)", the futuristic 90210 theme "Crummy Lovers Die In The Grave," Bach's "Air On A G-String" and cock-rocky "Major Airbro's Landing," are performed with a vast arsenal of instruments and gear ranging from the customary (Gibson Les Paul Standard, Fender Stratocaster, Marshall amplification, piano, acoustic guitar, synthesizers) to the exotic (custom-made Ron Seargent 9-string guitar...Smith's main ax, guitar synthesizer, the cryptically-named Guitar That Was Made Of Water). Live, Smith explains the more elaborate tunes are difficult to recreate, so it's all guitars and drums.
"We don't have the kind of money to do all the departure stuff. It would entail an extra van for gear and at least one sound guy. Our live shows are pretty much the most fired-up material. We're just up there playing music and sweating a lot. The only real improvisation happens with sneaking some gag into a line that alters it a little bit, mostly just to make the other guy laugh and fuck up."