The Cells
We Can Replace You (Orange Recordings)
By: Alex Steininger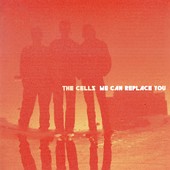 Power-pop with balls, modern rock with a sense of melody, and punk all play a role in The Cells' sound on We Can Replace You, a melodically sound, guitar-laden tribute to pop in all its forms. The Cells know what rock 'n' roll is all about; they also have a deep appreciation and love for pop music. Therefore, the two come together and the result is The Cells' musical nuggets, punk-tingled rock that would be right at home on the radio.

When the hooks hit you you'll be left standing in place, stunned, wondering why the band isn't on the radio. They have the chops and the songs to blaze a trail onto modern rock radio. Or, maybe not? They might be too smart for commercial radio.

It is their ability to sound commercial and indie at the same time that ensures that their songs always retain a slightly loose, organic feel to them, giving their crunch rock a boost that finds them high above all their alt-rock counterparts that are getting the radio recognition they deserve. I'll give this a B+.