INTERVIEW: Matt Keating
Critically Acclaimed Pop Singer-Songwriter (Future Farmer Records)
By: Alex Steininger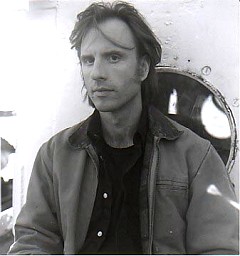 Critical acclaim doesn't sell records, just ask Matt Keating, an obscure singer-songwriter from New York who has garnered the praise and admiration of musicians and critics alike. And developed a loyal cult following since the release of his 1993 debut, Tell It To Yourself, released on the now defunct L.A.-based indie Alias Records. Yet Keating fails to sell the same amount of units as other artists with the same amount of press support.

Releasing four other records on Alias - 1995's Scaryarea, 1996's Candy Valentine EP (including "That Kind of Girl", later covered by Mary Lou Lord), and 1997's Killjoy- Keating seemed poised to break on a national level. Killjoy had every critic who heard it raving about it, and by the time it was released Keating's underground following was at its peak.

Then in 1997 Keating's daughter was born, so he took off time to work on making the record he had always wanted to make, and to take care of his daughter.

In 1999 Alias went bankrupt, so Keating began to shop the record he had been working on. When no labels offered to help pay to finish the recording, he scrapped it.

Enter 2000, when he began recording Tiltawhirl. With a completed record in hand, he started on the task of finding a label to release it. Nobody stateside offered to put it out, but Alan McGee's Poptones in Europe was hot on the record and released it overseas to much fanfare. The London Times even gave it a laudatory review.

Ready to give up on the record in the U.S., Keating's old manager, who now works at R.E.D. Distribution, the independent distributor owned by Sony, gave Keating a list of labels to send the record to. One label in particular, Future Farmer Records, who earlier this year released a solo album by Kevin Salem, Keating's guitar player from the Alias days, was a big fan of Keating. The two struck up a conversation and a deal was inked.

Recently released in the U.S., a year after its initial release on Poptones, and five years after his last domestic release, Tiltawhirl has many stating that Keating is back from a long hiatus with his finest release to date. Keating, however, doesn't fully agree with that assessment.

"I never went on hiatus," he says. "I was working on a record when Alias went bankrupt, then my daughter was born, and then I began working on what became Tiltawhirl. Just because it didn't come out in the U.S. doesn't mean I was on a hiatus. I was working on a record and playing music the whole time."

"I like variation. My main inspiration is the White Album, the most eclectic album in the world," Keating says, discussing the diversity of his career, and more specifically, of Tiltawhirl.

"I have two sides to me," points out Keating. "The rock side and the acoustic side. I like English music, rock, twee music, country, and Americana. When I was on Alias, which is an indie rock label, I was in a rock mind set.

"For Tiltawhirl I played Gary a lot of stuff and he picked the more acoustic, intimate stuff. It's a more intimate record. I hate the term folk. People think of James Taylor when you say folk. "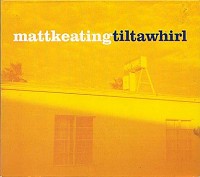 Tiltawhirl, which marks Keating's first post-Alias release, is also Keating's first non-Adam Lasus-produced record. Produced by Gary Mower, who was recommended to Keating by friends, Tiltawhirl finds Keating sharing input on song selections.
"My concept for the record was completely different than what happened. My old producer, Adam Lasus, let me make all the major decisions," informs Keating. "Gary helped make all the major decisions on the new record. What I thought were my best songs, Gary was like, 'No, let's try this one.' It's weird, what is planned is not what happens. If we did it the way I did the other records, it would have been a totally different record.
"That's why I like working with a producer. Usually I write a bunch of stuff. I have a backlog of about 150 songs. Producers help me sort through it all. I had it narrowed down to 25 songs going into Tiltawhirl and recorded 15 songs for the record. After that I was stuck with fifteen tracks. And yet some people still think the record is too long."
Tiltawhirl's recording began at a studio owned by Smashing Pumpkin's James Iha, members of Fountains of Wayne, and Mower. When the studio burned down, Keating shared his time between an eight track, 1" tape machine at Mower's house and a studio in Brooklyn.
"I like the way the 8-track stuff sounds the best," Keating tells me. "It's the more intimate, acoustic songs. I just like the feel of them. We recorded the rock songs at the studio in Brooklyn, but kept all the 8-track stuff for the acoustic songs because it sounded so great."
Keating is now working on touring the states, though he admits its hard.
"I don't have a booking agent and I can't book a tour. I just couldn't get all the drives to work. If I were to book it I'd be driving from New York to L.A. in one day," he jokes.
"I have no problem playing in front of 15 people and putting in the hard work," he continues. "But, I need at least $50-$100 guaranteed a night. And though I have a name for myself, I still can't get guarantees without a booking agent, so for now touring is out of the question until I can find a way to make it work.
"Believe me, though, I really want to tour."