Slut Em Go
The Disrespectful Beat (Sarah's Guitar and Repair Shop)
By: Alex Steininger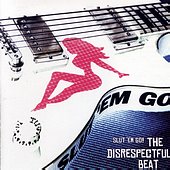 Lacking strong melodies and tight songs, somehow Slut Em Go still makes it work on The Disrespectful Beat, a seven-song EP released on their own Sarah's Guitar and Repair Shop label.

Part riot girl rock, part punk-driven mayhem, and a lot of loose, chaotic rock without direction, Slut Em Go seems poised to fall apart and disband, a hobby band at best, at least on your first listen. The more and more you listen to the record, however, the more and more the tongue-in-cheek-ness of the songs (such as "Punk Chunk", a rock 'n' roll that has two girls screaming "I get pussy") grow on you, the more you start to enjoy the less-than-polished rock. You soon realize their direction-less, no-polish style is what makes them Slut Em Go, a fucking rock 'n' roll band through and through, and that is where the fun is. I'll give it a C.