Ralph White
Trash Fish (Terminus Records)
By: Alex Steininger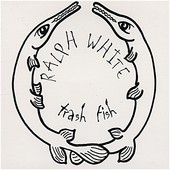 Avoiding the power of high-tech studios, Pro Tools, outside influences, and the fast-paced environment of city life, Ralph White took a few items to a shack: a banjo, a few other instruments, and an 8-track recorder. There he found solitude and was able to conceive an album as natural and fulfilling as nature. An album that possessed the same charms as a babbling brook, an afternoon stroll through a forest, and a swim in a lake with a bunch of friends.

Sparse and intimate, what White does with his banjo, play subtle, supple old-time country songs that will remind you of being a child, looking on in amazement at never new thing you learned, thinking it was the greatest thing in the world.

The songs flow together so easily, from one to the next, fitting together without any trouble. White's voice is raw and unabashed, just going along its day, much like the banjo, without a care in the world, but a song in its heart.

This is what Americana is about, simplicity, feeling, and honesty. Stripped to the bare essentials, White touches upon the foundation of country while stamping his own name on it. I'll give it a B+.