Indie Label Hot Seat
Chad Pearson, co-owner/operator of The Militia Group (The Militia Group)
By: Randy Harward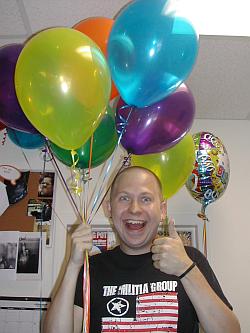 1. Who are you, and what do you want?
My name is Chad Pearson and I want a bowling alley in my house -- thanks very much.
2. What was your defining musical experience? How old were you?
I was in 5th grade and I wanted to play drums. I saw a guy play drums that was three grades above me and he was the coolest guy around -- I wanted to be cool too.
3. What was the first record you purchased?
Since I was raised in the mission field with strict Christian parents -- the first record I got was Petra More Power To Ya! A few years later I hid Nirvana in the case -- I guess I was rebelling.
4. What is your favorite album of all-time?
Possibly Jawbreaker -- Dear You or Refused -- Shape of Punk To come.
5. What are you currently listening to?
Silverchair Diorama, Coldplay, new Snapcase, The Beautiful Mistake Light A Match For I Deserve To Burn, Twothirtyeight You Should Be Living.
6. What is the coolest record store you've ever patronized? Why?
I love Bionic Records in Huntington Beach, CA, but I have been to Amoeba Records once and I walked out $170 poorer.
7. What is the best concert you've seen in the last twelve months?
For sure -- Winger, Cinderella, and Poison -- that was a dream come true!
8. Do you have a musical guilty pleasure (e.g. you secretly dig Night Ranger--)?
Yes I do. I love White Lion and Matchbox Twenty.
9. What is your musical kryptonite (the worst band ever--one that makes your toes curl/skin crawl/blood boil/stomach churn/mouth go dry/anus clench)?
The oh, so obvious answer: Limp Bizkit.
10. Who is the be-all-end-all greatest band ever?
I would have to say The Police or M?tley Cr?e (I just finished reading [M?tley Cr?e biography] The Dirt and have a new found love for them again).
11. What was the last book you read?
Oops...just answered that above.
12. What's your drink of choice?
Vanilla Vodka with ginger ale. 13. How did your label come to exist?
I used to book tours. Rory used to do Arise Records and book shows in Kansas City. He moved out here to go to USC, I was going to quit booking and move to Jersey. He came up with the bright idea to start a label together under the same moniker that I used for my booking agency. That's the brief start.
14. What was your first release?
Rufio, Perhaps, I Suppose....
15. How many people are you keeping off the breadline?
Six lovely people.
16. How do you discover your bands?
Pretty much all bands on our roster are also good friends of ours. We feel the need to support our friends. We are just lucky a lot of our friends are in bands and are pretty damn talented.
The bands also tell us who they like, etc. We get a shitload of demos every week and some of them stand out. We contact them saying, "What's up?" and start a friendship with them and help them out as much as we can.
17. Why should a band sign with your label? What do you offer your bands that other labels do not?
We are here to support the bands every step of the way. We tell them things straight up as opposed to being yes-men all the time. We put all the money that Militia has made right back into the bands and marketing. We offer a very solid and open relationship with all the bands...friendship first is the key. And it seems to have been working.
18. What do you contribute to the world by operating an indie label?
More music choices for people.
19. What releases do you have coming up?
The Beautiful Mistake, Light a Match For I Deserve to Burn. Stepping Stone: The Best Bands You Have Never (unsigned band comp...Internet now, stores next year), Point Break, Volume 1 (comp with Meshuggah, Soilwork, Thrice, Zao, etc....coming out on SideCho Records, which we also help operate, on 11/5/02) The Lyndsay Diaries, The Tops Of Trees Are On Fire [also] 11/05/02.
20. Favorite member of KISS?
Peter Criss.
21. What is your brush with greatness?
I had a good conversation with Alex Rodriguez (highest paid man in baseball) 'cause I thought he was an old college friend. I should have asked him for his number and then hit him up for money.
22. Would you say dentists or indie label owners have the highest suicide rate?
Dentist...who wants to stare at fucked up teeth all day?
23. What motivates you to get out of bed day after day?
I love my job. I don't want to go back working for the man--that helps.
24. Do you have any musical inclination beyond listening? If so, do you record and tour? Do you manage any bands or own a club?
I used to play drums in high school...I sucked balls. I used to book tours for about seven bands. Tour managed a couple bands before starting the label with Rory.
25. If you weren't running a label, what would you be doing?
Tour managing. Nothing like being on the road with four of your best friends. It's you against the world.
26. Who's your daddy?
James Cho.
IMWT Recommends:
Veronica, Hope For A Brighter Future: In pop punk, cool, quirky keys can make all the difference. The mere presence of such indicates a musical vocabulary deeper than blink 182, Green Day and the Drive-Thru Records catalog (with notable exceptions in Midtown and RX Bandits). Good songs help, too. They're still about chicks and stuff, but with better melodies and without the generics.
Tora! Tora! Torrance, Get Into It: Icarus Line meets the Mooney Suzuki; a complete garage/mod feast without the preservatives.
The Beautiful Mistake, Light A Match, For I Deserve To Burn: Screamo never sounded as good as on TBM's sophomore album...a marked departure from the quartet's comparatively mellow SideCho EP. And don't let the tag du jour fool ya: they may be screamo, but they're informed by rock that spans three decades.
Stepping Stone and Point Break: The Militia Group (via SideCho) shows it has the respect of the metal/hardcore community in corralling the likes of Meshuggah, Converge, Willhaven, Zao, Thrice and 13 other bands for Point Break. They also demonstrate a ear for undiscovered talent on Stepping Stone (dig The Cassettes, Watashi Wa and Tokyo Rose).
See also:
The Lyndsay Diaries: Not only is the guy friends with Chris/Dashboard, he sounds just like him. So much potential...by far better musically than DC, yet just as much whining.
Rufio: Pop punk by numbers. Ick.