Indie Label Hot Seat
Joe Clements, co-owner/operator of Sessions Records (Session Records)
By: Randy Harward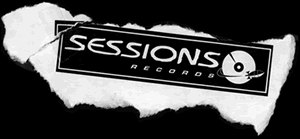 1. Who are you, and what do you want?
I'm Joe, I want to be happy.
2. What was your defining musical experience? How old were you?
There was actually two. The first was seeing Dio when I was 13 and then going to my first punk show, The Faction and JFA. That's when punk/hardcore became a way of life, a sort of life's blood rather than just something that was there.
3. What was the first record you purchased?
"Fly like an eagle" single 45
4. What is your favorite album of all-time?
Rudimentary Peni Death Church. The music, the layout, Nick Blinko's freaky-ness, it's all there .
5. What are you currently listening to?
Aw man.... Far, Strife In This Defiance and America's greatest hits. (busted)
6. What is the coolest record store you've ever patronized? Why?
It was one in Santa Cruz about 20 years ago, I forget the name but I would spend hours in there listening to what they were playing asking about every band. I think it was just the time rather than the place.
7. What is the best concert you've seen in the last twelve months?
I haven't seen a show in a while that has really done anything for me. The last time I really got stoked at a show was seeing the Missing 23rd play. They bring such a positive vibe when they play and I am so stoked that I can be a part of their whole thing.
8. Do you have a musical guilty pleasure (e.g. you secretly dig Night Ranger--)?
Awe man--. I like System of a Down--. Sorry
9. What is your musical kryptonite (the worst band ever--one that makes your toes curl/skin crawl/blood boil/stomach churn/mouth go dry/anus clench)?
New Found Glory
10. Who is the be-all-end-all greatest band ever?
Yeah, right. I can't answer that. First off, it would only be my opinion and second off I get stoked on different things at different times. Here is my answer if I was to go back to every phase of my musical likes. 70's Supertramp, 80's Dio and then Rudimentary Peni, now. It's a plethora of bands that does it for me.
11. What was the last book you read?
Siddhartha
12. What's your drink of choice?
Coffee
13. How did your label come to exist?
It's sort of a long story. The sort version, Sessions was already a record label owned by Joel Gomez owner of Sessions Apparel. He started the label just doing seven inches for friends, bands like the Decedents, DI, A.F.I. and more. I was in a band called Fury 66 and we were from the same town that Sessions is from. Joel wanted to step the label up a notch and do a full length with a band. He asked Fury 66 to be that band. At that time Clifford from Bl'ast was running the label for Joel. When our record came out, I started volunteering my time to push the Fury release. Clifford soon after decided he wanted to focus more on his band Space Boy so Joel asked if I would like to take over. I didn't know what the hell I was doing and kind of faked it till I made it. So here I am, still faking it.
14. What was your first release?
Sessions first release was from a band called Mock from Santa Cruz. The first release I worked on from start to finish was A comp called "The Way It should Be--" it has tracks from a lot of our 7"s , A.F.I., Fu Manchu, Swervedriver, etc. and also tracks from Good Riddance, Death By Stereo, Nerve Agents and The Distillers.
15. How many people are you keeping off the breadline?
No one. There are three of us that do Sessions records and we go to the Soup Kitchen every day for lunch.
16. How do you discover your bands?
In the past I met bands from playing shows with them like The Missing 23rd and Turnedown. Now more and more it seems like word of mouth and through mutual friends.
17. Why should a band sign with your label? What do you offer your bands that other labels do not?
Hmm, one good thing is Sessions Records is run by people that are in bands so we are always thinking of what's in the best interest for the band. We also do a lot of cross promotion between the skateboarding, snow, surf and music industries. We have gotten Sessions Records bands into a lot of Skate videos and video games including AMP snowboard and TWSurf Video games for XBOX.
18. What do you contribute to the world by operating an indie label?
I would say integrity mostly. We give hope to the underdog, a band that has a lot of talent but may not "know the right people" in the industry.
19. What releases do you have coming up?
We have a Foo Fighters 7" that is coming out September 24. It's their single for their upcoming album. Joel has been friends with Nate Mendel since he was in Sunny Day Real Estate and Chris Shifflet since he was in No Use for a Name. So, when it came time for them to do the single for their up-coming album they asked if we would be into do it for them on Vinyl. We are putting out a sort of discography/compilation of bands that Steve Caballero has been in, The Faction, Odd Man Out, Shovelhead, and Soda. That will be out in December. We also are working with a band called Eleventeen from San Francisco. They have ex members of the Maps. The sound a lot like Samiam. Were hoping to get them in the studio by Nov. We have a lot of other projects in the works but nothing confirmed.
20. Favorite member of KISS?
Peter Criss
21. What is your brush with greatness?
?
22. Would you say dentists or indie label owners have the highest suicide rate?
Bah ha HAHA! I would say Indie label owners, depending on their intentions.
23. What motivates you to get out of bed day after day?
My wife Mikala and my dog Buster.
24. Do you have any musical inclination beyond listening? If so, do you record and tour? Do you manage any bands or own a club?
I have been in bands for about 10 years. I have always seemed to be on the road recording and playing shows. That is my true passion. By running a label, I believe it's a chance for me to give back to a scene that that gave so much to me.
25. If you weren't running a label, what would you be doing?
Crying. Actually, I don't know what I would be doing probably just playing music and whatever I could do to pay the bills. As long as it didn't entail getting my knees dirty--.
26. Who's your daddy?
Mark Clements
IMWT Recommends:
Pop Unknown, The August Division: If Husker Du does you just as well as a good power pop band, Pop Unknown is your poison. Sadly, they've broken up. Pick up The August Division and their two prior releases (on emo boutique Deep Elm Records) before they go outta print.
Time Spent Driving, Just Enough Bright: J. Robbins. Sometimes that's all you've gotta say. It's the indie version of the Good Housekeeping seal of approval. TSD is that good: fine songs, soaring, dramatic vocals--crashing drums--urgent/melodious guitars--ahhhhhh.
Foo Fighters "All My Life" bw "Danny Says" (7"): It's Foo. No further justification necessary. "Danny Says" is a Ramones cover...that cranks it up a notch or ten on the coolness scale.
Jetlag/Lonely Kings (split EP): two great bands that go great together. Four tunes from each. Lonely Kings' tunes come out on top, in terms of full-on Rock Assault against songwriting acumen. On the other hand, Jetlag are young and fit the profile for major label contenders, so--fuck it. LK kicks booty.
Hopelifter, North of the Thirty-Six: good-rockin' punks' EP is an intense guitar feast.
See also:
Turnedown: emo quintet's eponymous EP doesn't hurt to hear, but it's not the stuff hard-earned money is spent on.
MAPS and The Missing 23rd: fast, agenda-laden punk stops short of oi. Good if that's your thing, if it's not, it grates.