INTERVIEW: The Standard
Touch and Go's Most Promising Band (Touch and Go Records)
By: Alex Steininger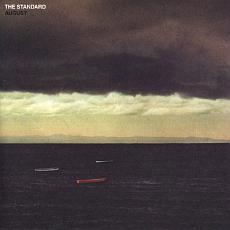 Portland, Oregon's The Standard have been through a lot, but managed to keep their heads up high despite it all. And it's paid off for them.

When their label, Seattle-based indie Barbaric Records, called it quits, The Standard had no label to put out the record they just finished, August, and the band's self-titled debut was just sitting there doing nothing.

Instead of giving up, The Standard kept on going, soon catching the ear of one of the biggest independent booking agencies in the nation, Billions, which lead to the band signing with one of the biggest independent rock labels, Touch and Go Records.

Within a year they went from a regional band with a local following to a national band with the tools in place to help them achieve a fan base on a wider scale. And with this newfound opportunity came the chance for the band to buy back their debut and take it off the market, affording them the opportunity to present August, their Touch and Go debut, as the record that most would perceive as their debut.

"The first reason is that I don't think it is representative of the band," says front man Tim Putnam on why the band decided to buy back the self-titled full-length from Barbaric Records and shelve it. "The only thing it represents is the band's name."

"It is something we did for fun," he continues. "We went into the studio to see what we could do. I had never recorded in that capacity before and Jay [Clarke, keyboards/guitar] was basically a session player for the record. He joined the band right before we recorded it. Some of the songs were even written in the studio. It was just something we needed to do to get to the next step."

" I didn't consider us an actual band until the first record was done and then I was like, 'This could work out'," drummer Rob Duncan says without hesitation.

"The day we finished recording the self-titled record we realized we were a band. We realized we could all work together and do this, so then we got serious and started working on August," further explains Putnam on the band's long list of reasons to pull the self-titled off the shelves.

"A lot of bands don't have that option, to have a record and pull it off the market," admits Putnam. "Most bands release something and that's it. But, we were fortunate enough to be able to buy it back from the label we were on and decided to take it off the market because we worked really hard on the new record and wanted that to represent the band."

As for re-releasing it in the future, Putnam is quick to shoot that down.

"We have no plans to re-release it, at least not at this time," he tells me.

"It really doesn't matter if it was still out there," Duncan says. "If people have it, they have it. We just had the opportunity to have August be the record that could represent us and we took it."

The result of their hard work is August, a full, richly produced rock record that is layered with textures and sounds, a triumph for a band just coming into their own, and an understandably more progressed record than the self-titled. So it goes without saying that, given the opportunity, most bands would jump at the chance to pull off the market a record that was originally intended as a studio demo and opt for a record that they spent more time (and money) putting together.

" August is our first record as a band," proclaims Putnam. "Prior to that we were just a bunch of guys getting together to play. August, though, is when we really were a band and started to work and function as a band."

August is hard to describe. Spending plenty of time in the studio with producer/engineer/mixer Jeff Saltzman, every musical idea the band had was examined, those that worked were elaborated on, and it shows. The hard work and energy they put into the record furthers its intensity, as they deliver a record of not only depth, but power.

"We wanted to make a record," Putnam firmly states. "We always wanted to make a record. The records I listen to now are records. They're not just a collection of songs or a bunch of songs with a few really amazing ones. They are full records, beginning to end. Whether we accomplished that or not, I have no idea, but that is what we wanted."

Opening with the title track "A Year of Seconds", the band displays their ability to use space and volume to their benefit, as they create a sound that defies labeling, showing its influences, while clearly representing itself on its own merits. Musically they managed to pull off their goal of creating a record; not a collection of songs, but a record. Each song feels as if it should be there, the next song feeding off the energy of the prior track.

Lyrically, the band managed to do the same, create a record of songs that went from one to the next, taking on new meaning if separated from the pack. When heard in its entirety, the songs flow like a novel, the same general concepts and themes cropping up in every piece. Putnam admits to striving to create this feeling, though finds it hard to elaborate any more than that.

"There is a lyrical theme throughout the record, yes, but I hesitate to talk about specifics on the lyrics, because I believe if someone is buying your record it becomes their record and their meaning to your lyrics is their meaning and that is what it means," remarks Putnam. "For people to go, 'I made this, this is what it means', that is not right. There is nothing I hate more than hearing someone describe what their songs mean after I have come up with my own meaning. It ruins it. Sometimes it makes it better. But, sometimes it ruins it."

Having said that, Putnam does offer a little insight into what was going on in his mind while he was writing the record.

"The record is really about distance," he tells me. "Distance within yourself, and the world around you that is existing and being apart from that. And how closer things become.

"We live in this world that is so immediate and it is becoming more and more connected, and in within that there are these little stories of what is going on. It's just this vast disconnection from other human beings. Someone can look at porn on the Internet and basically have sex with a million beautiful women without ever talking or seeing one. It's incredible. And it's also frightening. People can do these things in the privacy of their own home. I guess it's a matter of being much more educated in those regards, but in that kind of education you lose the learning in many ways, and that is what it feels like to me. You can know something without knowing it.

"You can example to someone for a hundred hours what it is like to have sex, but it is something that has to be done. So I think that is something that our record is about, the idea of in many ways feeling totally disconnected, but you're surrounded by this closeness, this immediacy. It has pressure to it. It is sometimes depressing, but can also be liberating. It forces you to try and deal with yourself or totally disconnect from yourself. And you see that day-in and day-out, where people are totally disconnecting. People are really trying to figure things out."

Feeling as a band and seeing their hard work get released on a large independent scale, while landing the ever-coveted booking agent (especially one with so much power in the industry), it is quite overwhelming for the band. The Standard, however, try to put it in perspective and not take any of it for granted, because they know that in this business anything can be fleeting.

"That is one thing about us, we've been very lucky in finding people that are legitimate and have great reputations and want to work with us," Putnam proudly reports. "They're giving us the benefit of the doubt and affording us all kinds of opportunities. Is it overwhelming? It's totally overwhelming."

"It's overwhelming, but when you get into it, all the romanticism goes out of it and its work," he continues. "There is the business side and it's a lot of work. The business people behind it, no matter how big of music fans they are, they are business people and have to make a living. And that is what is most overwhelming for us. The fact that they want to work with us."

Having seen a lot of false starts and bad business moves with their previous label, The Standard are rightfully cautious. Having been fans of Touch and Go prior to signing to the label, and meeting Corey, the owner, as well as the staff, their cautious was put to ease.

"With any other label I would have been apprehensive about what they were saying they could do," confesses Duncan. "But, Touch and Go has been doing it for twenty years and they were nice people, so we decided to go with them."

"When Touch and Go first approached us, we talked about it and I told the band we should meet them first," adds Putnam. "For all we knew Corey could have been a dick and the staff a bunch of assholes. Then, what would the point be? Just because it was Touch and Go that wanted to sign us, that didn't mean anything. We had to meet them first. And we did and they're very nice people and have a genuine love for the music."

"I have to sit back and think about it all," says Duncan.

"Some things put it in perspective for us," Putnam is quick to point out. "We go on tour and we play to nobody."

Having been through so much, and having it all pay off, the band's future looks promising, though they are reluctant to look to anything but the present, as they concentrate their efforts on writing for the next record and touring to promote their current one. Given the chance to do it all over again, the band knows what they would do.

"I wouldn't change a thing about what has happened with the band so far," Duncan says without hesitation. "We've learned from it all."