Choo Choo La Rouge
Wall To Wall (Choo Choo La Rouge)
By: Alex Steininger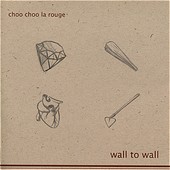 Loose, jangle-y, but ragged indie-pop, Boston's Choo Choo La Rouge writes lightweight, hip-shaking indie-rock that adheres to the less-is-more, lo-fi practice. Wall To Wall is their debut EP, and though they sound like a new band, they seem to be working hard, on tape, to find their own style. After listening to this EP, you get the feeling they'll hit the mark, eventually. And you praise them for understanding that they weren't quite ready for a full-length, taking a stab at public reaction with an EP.

Its oft-paper thin rock sound helps highlight the flaws, but the bouncy, happy-go-lucky beats undermine this factor, putting a smile on your face, allowing you to jump up and down and feel the pop that is Choo Choo La Rouge. A diamond in the rough, with a ways to go, but they're on their way. I'll give this a C-.