The Datsuns
The Datsuns (V2 Records)
By: Cam Lindsay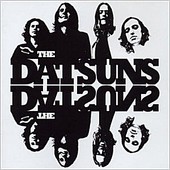 Being a pretty lazy-minded individual, there are times when I really don't care to put much thought into what I am doing. Watching the British game show "Countdown" is a perfect example. A game where a number of consonants and vowels are chosen and then in 30 seconds the contestants must come up with a word using the most letters possible. Even though I enjoy the show, I never even bother trying to come up with even a simple word. The same can be said for a lot of music. Yeah, I love Captain Beefheart, but there are times where I just cannot sit down and listen to Trout Mask Replica, because I just don't feel like making an effort to actually get my head around it. This is why New Zealand's latest export, The Datsuns are the perfect band for the idle.

Their debut album, a self-titled, one off release with the impressive-as-of-lately V2, requires less attention than any other album this year. You just pop it into your stereo and sit there. The intensity and sheer volume of the record is enough to make you nod your head, but you need not worry about looking for any meaning to the lyrics, they're as pointless as you want them to be. Case in point is "MF From Hell". The chorus goes "She made me feel like a motherfucker from hell/Yeah, like a motherfucker from hell." Yeah, it abuses the most offensive word containing "fuck", but these guys are stars, and allowed to do whatever they want. Their singer is named Dolf de Datsun, for chrissakes. And he looks and screams the part too.

While they may been the umpteenth millionth garage band to make headlines in the past year, there's a reason why. Not only do they eat, sleep, breathe and bleed rock 'n' roll, they are the heaviest bunch of them all so far. While The Strokes may be Blondie with a boy singing, and The White Stripes are the perfect blend of Blind Willie McTell and Led Zeppelin, The Datsuns are the MC5 covered by AC fucking DC and M?tley Crue, out together for a night on the tiles.

To make sure you get the full, Datsuns experience, check out the B-side to the "In Love" single, titled "Supergyration". It's mean and dirty enough to match any song on the album and it overuses its title and exploits the word "rock 'n' roll", but that's the idea nowadays. If everyone's going to point out how "rock 'n' roll" something is, you might as well suck the shit out of the word until it's so uncool to use it anymore.

They're powerful, deafening and full of energy you don't want to spend yourself. Air guitar album of the year? Without a doubt. A.