Imperial Teen
Live at Maxwell's (Digital Club Network)
By: Alex Steininger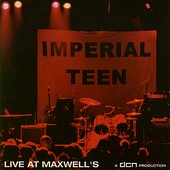 Imperial Teen's first live album, recorded for dcn.com, the world's largest aggregator of live music performances, on July 31, 2002 at Maxwell's in Hoboken, NJ, finds the boy/girl rock quartet at their finest.

Long a live favorite, Imperial Teen's records - 1996's Seasick, 1999's What Is Not To Love (London/Universal) and 2002's On (Merge) - have always showcased their finely tuned pop marksmanship and rock 'n' roll prowess.

And though they have never lacked the energy or sweatiness of the band's live show, to experience the band and their songs at a smoky bar has always elevated the songs that much more. So it is only fitting that they finally release a live album.

From post-song banter between the band and the crowd, and the band members to each other, to the rawness of the songs live, Live at Maxwell's is pure rock 'n' roll. The pop plays a big part in the songs (much more on record than in the live show), and that is the one downfall to the live record. Stripped away of any additional guitars and studio tricks, the sugar sweet catchy pop is stripped down to bare-bones rock - not a bad thing, just a different thing.

The live show is a different beast from the records, and this record proves it. Both sides of the bands are equally enjoyable; however, for those unfamiliar with the band, you'll want to start with the records before you try the live record (which goes without saying). I'll give it a B+.