The Jim Yoshi Pile-Up
Homemade Drugs (Absolutely Kosher)
By: Alex Steininger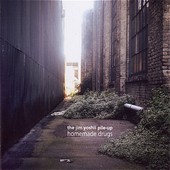 Writing the kind of eerie, standing-in-the-rain melancholy that will have you weeping or feeling consoled, as misery does love company, the faintly melodic, slightly agitated indie-rock of The Jim Iota Pile-Up pulls back the punches, holding it all in until it manifests into a rock explosion. By doing so, they keep the majority of the songs - and album - mellow(er), though still managing to keep it all from slipping off into peaceful slumbers.

With a passionate, remorseful voice content on dredging up the past for its inspiration, Homemade Drugs, the latest from the Jim Yoshi Pile-Up, is a stellar collection of lightweight presented, but far more than that rock songs.

"Double Negative" or "A Deep Deep Lake" draws upon a louder, guitar texture. Whereas "Middle Harbor Road" and "Haunted Rooms" prefer to let the rock make a subtle cameo instead of the lead role. And then there is "Distance", the band's relaxed pop offering, and one of the best songs on the album. I'll give this an A-.