Magstatic
Country Vs. City (Pop Sweatshop)
By: Alex Steininger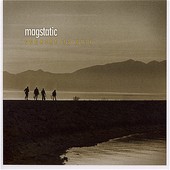 Salt Lake City's Terrance D.H., better known as the songwriter/voice behind rock outfit Magstatic, was toying with the idea of a solo career after his drummer and bassist split to pursue other non-musical adventures in life. Then he met up with drummer Garry Ventura at a party and the two, who instantly clicked, discussed the possibilities of a two-man band.

Knowing that Magstatic was all his songs, and the new outfit was too, D.H. and Ventura decided to resurrect the band, recruiting Chelsa Vaun and Jason Horn to fill out their line-up.

The result is Country Vs. City, backing up the band's claim that the new line-up is the most rejuvenated, ready-to-rock version of the band, and not a feeble attempt at prolonging a band who long ago lost its magic.

The magic is alive throughout Country Vs. City, the roots-y pop of the title track opener. The crunchy, buzzing rock of "Gotta Get Away". Or the sweaty performance of the soaring, melodic offerings of "Somedays", "Speedboat", and "How To Play Good Golf".

Magstatic is at the top of their game, creating varied rock music that expands beyond the three-chord crunchy rock while embracing it, delivering smart pop moments alongside a good excuse to play loud and make the fans scream. I'll give it an A-.