Rilo Kiley
The Execution of All Things (Saddle Creek)
By: Alex Steininger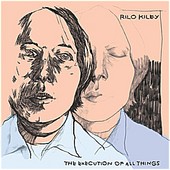 The Execution of All Things is the successor to 2001's Take Offs and Landings, an airy indie-pop record that melded beautiful melodies with the band's rock sense. Picking up where Take Offs and Landings left us last, The Execution of All Things provides us catchy & hook-laden numbers alongside more spacious, jangle-y nuggets. New to the sound is a darker, more sullen approach, giving the songs, and the band, more than one dimension to play in.

Mostly due to the band's growth in songwriting - both musically and lyrically - they seem more apt to take chances, not limiting themselves to indie rock, extending beyond what the genre will allow. Elements of country and folk, though not blatantly obvious, are there, and the pop and indie rock, which dominate the album, seem to appreciate it, feeding off the other styles to help their own styles sound more interesting and mature.

Able to create a song that can make you think, one that makes you want to jump up and down and sing along, or one that will send shivers down your spine as they nail exactly how you feel, Rilo Kiley's sophomore effort is a winner. A soon-to-be indie rock classic, for sure. I'll give it an A.