INTERVIEW: Cherry Valence
Riffin' and Talking Rock (Estrus)
By: Alex Steininger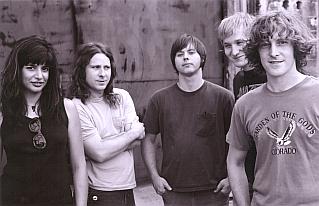 North Carolina band Cherry Valence, a rock 'n' threat consisting of two drummers - one sits behind the kit while the other goes up front to sing, and at times you'll even find both hammering away on the drums - recently released its debut Estrus Records full-length, Riffin.

Cherry Valence is all about the riffs, as the album title would suggest, delivering dirty, late-night drinking man's rock 'n' roll, a carefree cocktail of scorching lead guitar courtesy of axe-man Jamie Williams, as well as plenty of pounding rhythms to drive the rock 'n' roll home.

As the band recently completed on a headlining tour (their first), I caught up with Williams to talk rock and discuss Riffin'.

"Our first headlining tour went better than I expected," confesses Williams. "Most places went really well. Some places, the places we never played before, they were good and bad. Some were pretty empty and others we played with friends' bands and had a good crowd."

The Cherry Valence is a quintet, consisting of drummer/vocalist Nick Whitley and drummer/vocalist Brian Quast, bassist Paul Siler, Williams and second guitarist Cheetie Kumar. A true collective, the band writes its songs as a team though, as Williams explains it, some duties, like lyrics, are best left to only a few people.

"I have trouble with lyrics, especially lately. So a lot of times I'll come up with a riff and tell Nick what I want the song to be about and he'll come up with the words for me.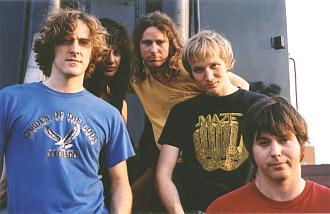 "When it comes to songwriting," he continues, "Nick writes songs around a drum beat and Brian uses a guitar to write most of his songs. We don't really have one songwriter in the band. We don't have a Tom Petty. Everyone will come up with their own parts and Nick or Brian will come up with the lyrics and the general rhythm for the song and we'll all add our parts."
When asked to describe their music, Williams is hesitant.
"I can't really say what we sound like live because I'm in the middle of the live show and can't hear us or see us from the audience's perspective," he points out. "I could watch a video of an old show but then I'd go, 'Am I really that stupid up there?'
The band records just like they play it live. Setting up two drum kits next to each other, and when a song calls for Whitley or Quast's drum part, the respective drummer sits at his kit and hammers away. They're all over the place. Sometimes one is drumming and the other is singing up front, and other times they're both hammering away on their drums."
When asked if this gives the band a distinctive edge over other rock bands, Williams ponders the question for a bit.
"Some songs you can tell and others you can't," he says after a short pause. "At times Nick will play half a song and then jump up and sing. In that case there are two drummers on the song but not two drums going at once, whereas other times both Nick and Brian are playing at the same time and you can hear it on the record, just like you can hear it and see it live."
Cherry Valence is foremost a live band, and no matter how well they play on record, their songs are meant to be played live. Therefore, the band plans to continue touring into 2003.