Custom Made Scare
The Show Must Go Off (Custom Made Scare)
By: Alex Steininger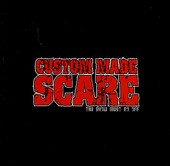 On their sophomore effort, Orange County's Custom Made Scare kick out the drunken, brawling rock 'n' roll with the opening track "Big 10-4" and never let up. With the roughness of a truck driver, and the power of the trucks those drivers take on long hauls, The Show Must Go Off is a powerhouse rock 'n' roll album rooted in the loud guitars combustible rhythms that has earned rock the title "the devil's music".

Suffice to say if you're into PBR, sex, and chain smoking, the ass kicking Custom Made Scare will leave nothing to be desired. They are as rough as they come (front man Charlie just got released from prison), and they're relentless in their assault. I'll give this an A-.