Chumbawamba
Readymades (Republic/Universal)
By: Alex Steininger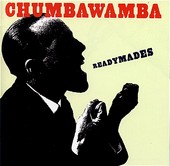 Chumbawamba will forever be associated with their hit, "Tubthumbing", the one with the chorus, "I get knocked down, but I get up again...". You know the rest. However, before the song forever associated with the summer of 1997, Chumbawamba was an obscure anarchist pop band, the most unlikely candidate for radio domination.

Two albums later Chumbawamba's "Tubthumping" days are behind them. And though they may not be the radio hit makers they were five years ago, they are creators of some of the most beautiful pop music you're likely to hear.

Trading off between male and female vocals, the band designs a delicate balance between hook-laden pop and gorgeous melodies, using lush instrumentation and a sense of style to create songs that are well-produced while maintaining their own identity.

This is far from cookie-cutter, radio-ready pop. The songs are warm, vibrant, and lively, capable of sweeping you off your feet one minute, and poking you until you sing along the next. And though they may never live down that infectious, annoying song, they can take pride in the fact that they didn't get stuck in a rut and feel the need to re-create it.

Readymades is a soaring collection of magnificent, lightweight pop songs that float and glow, the perfect soundtrack for spring and summer. I'll give it a B+.