Foo Fighters
One By One (RCA Records)
By: Alex Steininger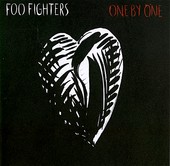 After a stint as Queens of the Stone Age's drummer, Dave Grohl was pumped. He wanted to rock out again. Taking the Foo Fighters into the studio, the goal was to recapture the rock spark that the four members had kept burning in their previous outfits. Forgoing the pop-dominated offerings of Foo Fighters previous releases, One By One finds Grohl and company stripping the songs down to their core - 2 guitars, drums, and bass - so all songs can be performed live, just as you hear them on record.

Starting off with All My Life, Grohl's pop sensibilities are in tact, his fierce scream-to-croon voice leading the songs through outbursts of fierce guitars and quieter, melodic moments that drag you into the eye of the storm.

"Have It All" contains a crisp drum beat that shatters your skull, beating and beating in your ears while the roaring guitars come flying at you from every direction. The power of the bass makes your knees shake. Then a hook cuts into you and you begin singing along. The chorus fits in perfectly with all other Foo Fighters releases, sugarcoated dynamite that explodes in your mouth, before the song whips back into the verse and taking you for a ride.

It is this precision, this attention to detail that has always made the Foo Fighters hands down the best band on commercial radio, and one of the best mega-groups out there today.

On the endearing "Disenchanted Lullaby" The Foo Fighters give you a little rest as Grohl exercises his singing voice, before launching right back into the rock. A mid-tempo, heavy chorus dominating the song and giving it the spice it needs to retain an edge, though even without it Grohl's relaxed voice and rain drop guitar notes would still make the song float around your head for days on end.

The crushing "Lonely As You" reels you in with a soft intro before transforming into a heavy, hard-hitting rocker. Though, the verses still retain a light-hearted pop feel, all is forgotten when the wall of noise come crashing down on you in true Foo Fighter fashion.

Their most rocking record to date, The Foo Fighters flex their muscles and win, creating an album of unprecedented skill. A stunning collage of sing-along pop-rock you expect from The Foo Fighters, and layers of razor-sharp guitars and pounding rhythms that show the band and its members haven't forgotten the youthful attitudes and drive that made them want to first become musicians. This is The Foo Fighters swan song, a balls-to-the-wall record that shows there is no limit to the abilities of this band. I'll give it an A.