Various Artists: Songs in the Key of Z
The Curious Universe of Outsider Music Volume 1 and 2 (Gammon Records)
By: Alex Steininger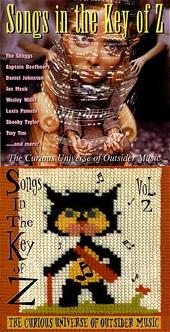 A two-volume audio companion to the book of the same name, Songs in the Key of Z: The Curious Universe of Outsider Music by Irwin Chusid, the producer of the Langley School Music Project, celebrates those musicians who are very unconventional in their approach. They don't conform to the standards of what music should be, they make lake tunefulness, and they may not write songs that could be consumed like a McDonald's hamburger. However, that is where the beauty lies, these uninhibited musicians create music for themselves, for their fans, songs that portray real emotion, real feelings, and real people making the music. No major labels, studio magicians, or outside influences hinders or controls their music. For these reasons and more, they're considered outsiders. So be it!

Volume 1 contains cuts from the world's two most notorious outsiders, The Shaggs and Wesley Willis. The Shaggs, a trio of sisters who were forced into the rock 'n' roll world by their father because he had a dream that his daughters would be rock stars, made beautiful music that was laughed at by most, treasured by some. The Philosophy of the World is considered by many, including Frank Zappa, to be one of the most oddly significant records ever released. Here you will find the title track off that record. The three girls play their hearts out, marching to their own drummer, and not even remotely playing in sync, while creating a mysteriously significant song.

Then there is Wesley Willis' stab at fast food. "Rock n' Roll McDonalds" contains the hooks, the charm, and the wit (not to mention lyrics that address the fat contents of a McDonald's burger), to get you singing along by the end of the first chorus. You will be shouting "Rock n' Roll McDonalds" all night long.

Other notables include Daniel Johnston, Jack Mudurian (who does a medley of several classics), Joe Meek, Captain Beefheart and The Magic Band, and The Legendary Stardust Cowboy, an artist Bowie covered on his latest record.

Volume 2 continues with more outsider musicians, most of whom never reached the critical acclaim of The Shaggs or Wesley Willis, but whose music deserves a listen to those who can appreciate it.

Bob Vido, a one-man band, recalls The Shaggs on "High Speed", creating a wall of various noises that somehow mix together to fuse a messy, but appreciated collapse of convention. Alvin Dahn's "You're Driving Me Mad" is heavy metal done with less pretension than Van Halen, as he wails away and plays his heart out, missing notes, sings off-key, and marches to his own beat.

Dick Kent, Wayne, Buddy Max, and B.J. Snowden are just some of the other musicians who will remind you what music is about. It's not about proficiency or talent, it's about caring, it's about meaning what you say, and about putting feeling into everything that you do. And while a lot of the mainstream has forgotten this in favor of cheap frills and easy-to-do hooks that turn your mind to mush, these artists stand tall and stand proud, giving it their all because this is what they love to do. And they don't care if you laugh or smirk, because they know they gave it their all. And for those that are also outsiders or appreciate the talents of the outsiders, you will enjoy these two discs. I'll give them both a B+.