Public Enemy
Revolverlution (Koch International)
By: Anthony Davis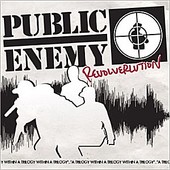 Attention: I am about to give the new PE album a not-so-glowing review. If that, to you, is sacrilege, just skip this review and go buy the album. So here goes. As Chuck D appropriately states in the title track: "The sound remains the same." And that, in short, is the problem with this album. Just as PE has done for 15 years, this album addresses social and political issues straight on. From "Revolverlution" to "Son of a Bush" the lyrics themselves are interesting, poignant, and explosively charged. Unfortunately, subject matter alone does not hip hop make. Of the 21 tracks on the album, there are only 8 new songs, and if you take away the lyrics, they are really not new in any sense of the word. I enjoy the lyrics (who doesn't enjoy roasting Bush), but not the "music." And while some of the live performances don't play well, the live version of "Fight the Power" -- recorded in Switzerland in 1992 -- is amazing. In all, I liked the remixes the best, particularly "By the Time I Get To Arizona (The Moleman Mixx)" and "Shut Em Down (The Functionist Version)." The Jeronimo Punx Redu of "Public Enemy No. 1" is just plain awful. There are also two "Public Enemy Service Announcements" -- one speaking out against drugs, and one speaking out for Black History Month. While laudable, having Flava Flav co-host these public service announcements takes away from their credibility and makes them awkward intermissions.

If you still like PE (for more than just memory's sake), you will like this album. And it's still better than a lot of the crap going platinum. But while hip hop has evolved (even the new old school like BEP and J5 are putting new spins on older styles), PE has "revolved." With Chuck D's clear creativity, I expected a little more. Maybe it's not Chuck D at all, but Professor Griff we have to blame. Someone is to blame.