34 Satellite
Stop (Hideaway Records)
By: Alex Steininger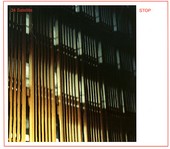 Stop starts off with a bang, the guitars slowing trickling in, leading up to the explosion of "Elijah St. Marie", the opening track. Buzzing guitars kick out the power-pop while the vocals and rhythm section add an element of post-punk to the picture. From there, however, the album takes on a different feel, dropping the power-pop, and closing in on post-punk.

The post-punk of 34 Satellite isn't bad; it just isn't anything significant. The songs have gusto and plenty of energy, making the record good for a few listens. The alt-country influences in a few spots also helps change things up a bit. But, when all the loud guitars and blasting melodies are taken away, the production and studio wizardry put aside, the songwriting isn't top-notch. Still, the record is catchy and enjoyable, promising something bigger and better from the next go around. I'll give it a C+.