Alaska!
Emotions (b-girl records)
By: Alex Steininger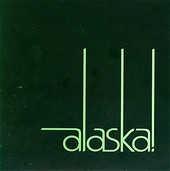 One third of Sebadoh (Russell Pollard) and two thirds of Folk Implosion (Russell Pollard and Imaad Wasif), this indie rock duo has a quality pedigree, raising the expectations for their debut, Emotions. And, unlike similar groups that either take a few albums to hit their stride or the unlucky ones that never quite live up to the hype, Alaska!'s ability to write relaxed acoustic songs and loud, energetic rockers shines here. Making them one of the groups that, even with tremendously high hopes, live up to hype.

"The Western Shore", the album's opener, finds the band's two sides melded together, the heavy-handed rock song centered around a sliding folk-rock base. It has the hooks of a good pop song; it's abrasive edge raising the bar on pop, while the mid-tempo rhythms and guitar-layered surface combine to form a well-produced, high gloss indie-rock number with finely honed chops and plenty of muscle. But it's sensitive side, courtesy of the vocals, dealing with regret and self doubt, gives everything a delicate face, too.

"Love (To Be Your Main)" is Alaska! at their most melodic. Delving into a guitar-driven indie-rock number, hip-shaking beats are offered courtesy of the rhythm section, as the band hammers out a solid song that will make you want to shake and move while singing along. As the drums keep things moving, the guitar and bass pursue the melody line, ensuring things never slow down, as the hook-laden piece makes you succumb to its restlessness.

The band sounds equally compelling on the album's softer moments. "Sun Don't Shine", filled out by backing vocals courtesy of Josie Cotton (the 80's hit song, "Johnny Are You Queer?") and piano and banjo by Goldenboy's Shon Sullivan, retains a rock backdrop via the rhythm section. But the quieter vocals and lighter guitars do a 180, making its mellow presence known.

"Rust and Cyanide" takes things down even further, the weeping guitars and chilling cello creating an atmospheric, early morning delight, a serene melody turning the contemplative lyrics and winding down vocals into an airy folk-pop piece, the harmonious backing vocals adding an element of warmth to the breezy number.

The band also does fragile falsetto-sung pop as demonstrated on the Elliott Smith-esque "Broken". Sounding like Smith fronting a Mic City Sons-era Heatmiser song, the ready-to-breakdown folk-rock spectacular is one of the album's highlights, a reeling pop song that picks itself back up, dusts itself off, and keeps on going despite life's challenges.

One of the strongest records of 2003, Alaska! promises to be one of the indie worlds hottest commodities, a band that will, once people see them live or hear the record, instantly win everyone over. Emotions captures the vibrancy and power of their live show without sacrificing production or quality. I'll give it an A+.