Waco Brothers
New Deal (Bloodshot Records)
By: Alex Steininger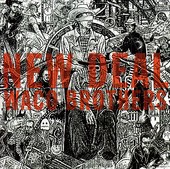 On their latest, New Deal, the Waco Brothers deliver soulful, danceable alt-country that goes beyond the limitations of the sub-genre. Using their appetite for rock, the band mows through twelve tracks of unprecedented country-soaked rock 'n' roll. Shaking it up with tracks like the opener, "Poison", its chorus ringing with a sing-along, the hoedown vibe taking things to the next level as the band, and thus the listener, has a ball.

From there it never stops. "Johnson to Jones" a country shuffle, "New Moon" tingling with the blues, and "Better Everyday", a song that reminds you of classic country before turning into a rocker.

If there were to be one modern band that exemplified alt-country, it very well may be The Waco Brothers. As New Deal proves, the band can do any form of country they want - no small feat for anyone - while shaking and stirring in the rock, among other influences. I'll give this an A-.