INTERVIEW: Herman Jolly
Sunset Valley Frontman Discusses Family Life, Second Solo Album
By: Alex Steininger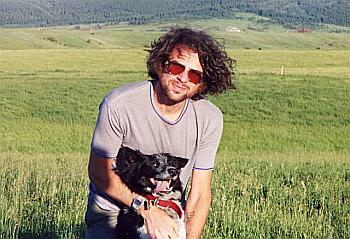 Sunset Valley's Herman Jolly has been through it all, from being a member of the big buzz band in town to landing a major label deal that promised the world but brought nothing but headaches and wasted time. With the release the band's third full-length, Icepond, in August 2001 on Seattle-based indie Barsuk Records, things finally started to stabilize for Sunset Valley. Then the band decided to take a break.

Now, after the November birth of his son, Maxfield, and his latest solo album, Thanasphere, Jolly seems completely happy with life and the direction his music is taking him, whether or not he ever makes his living off of it.

"When I was playing to empty houses or houses full of jackasses who wouldn't even give one clap for a non-emo rock band, I was thinking, 'this is fucked!'" Jolly says, commenting on Sunset Valley's touring experiences. "Now that I have a sweet little baby that depends on me, I know it to be truly fucked.

"Having a baby changed my whole perspective, for the better. I still enjoy and write and record music, it is still a great passion, and I will still tour but will try to target areas that I know will pay off in some way. I am planning to tour in the Northwest to promote Thanasphere and will be avoiding any (pavement-)pounding."

Jolly's 1999 debut solo record, Mad Cowboy Disease (Fortune Records), is a rootsy, country-tingled acoustic record. Thanasphere takes a 180-degree turn, still rooted in the acoustic dwellings of Jolly's solo side. However, unlike Mad Cowboy Disease, Thanasphere resembles Sunset Valley, though without the loud guitars and rock momentum.

The same hook-laden, twisted melody-driven structure that fuels Sunset Valley is present throughout Thanasphere, making it sound unique and separated from Sunset Valley, but also giving it an acoustic Sunset Valley feel, which should please fans of Sunset Valley and their last full-length, Icepond.

"Most were brewing in the head for the solo album," Jolly replies when asked if the songs were originally slated for Sunset Valley or if they naturally tilted towards the solo album platform. "The rest were written during recording. The age span of the songs from conception to tracking ranges from four years to one hour. I had wanted to do another [solo album] since Mad Cowboy Disease because Fortune said they would put it out and because they are such fun to do, but it was difficult coming up with an idea for the record. So I thought, 'I have about 20 new songs; the most rocking ones will be for the fourth Sunset Valley record and the rest will be for me.'

"This also solved another problem known to me as 'Icepond-perplexia'," he continues. "Icepond contains everything from mega-rock to sad-sack, and the band and I would much rather have the band be a little more consistently 'up.'"

Recorded primarily at the Sunset Valley practice space in Portland, Oregon while Jolly, who had since re-located to Montana, was in Portland on business, Thanasphere was not premeditated. Jolly knew he wanted to make another solo record, but he thought it was still a little bit away in terms of scheduling time to make it happen.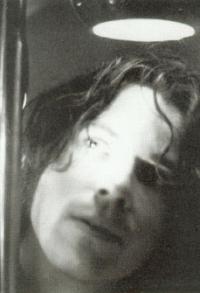 However, fellow Sunset Valley band member, bassist Eric Furlong, convinced him to sit down and record during the trip. "Except for the last song which I did on my four-track, I recorded everything in Portland at the Sunset Valley home studio over a series of evenings while I was working out there last spring," recalls Jolly. "It was pretty much nailed out like that. I wasn't planning on recording anything on that trip, but Eric convinced me to and I had to borrow every instrument from friends. Eric Furlong and Jonathan Drews [drummer for Sunset Valley] helped me out a lot, and the rest of the time was the most time I've spent alone at the board and it was very fun."
Sunset Valley's other two members, Furlong and Jonathan Drews, assisted Jolly in the recording and production of the album. Drews also played drums.
"[Eric and Jonathan] generated recording ideas that were key to the way those songs ended up sounding and they implemented those ideas in the studio," Jolly tells me. "Both of them are great producers in their own right and they were wearing their producer hats for that."
When asked if it ever felt like they were making a Sunset Valley record or that their involvement would turn it into a Sunset Valley record, Jolly is quick to reply that they're two very different animals and the mindset is completely opposite of each other.
"I recorded all the instruments and vocals to a beatbox and then at the end of it all, Jonathan, in an astounding display of musicianship, came up with and tracked drum parts to all the songs in just a few hours. It never felt like a Sunset Valley record would pop out. It is a very different feeling making one of those. For the solo thing it is me being manic and anyone around me being very kind and going 'you want help setting up a mic and then you are going to hold that fishbowl full of pennies and jump up and down, that's cool, hang on, ok, jump!' With the band we are all in a special zone. The closest I can come to describing it is that we are like the bad guys in 'Superman 2.'"
Another thing that separates his solo songs from Sunset Valley is the pressure factor.
"There are definitely fewer pressures and probably zero expectations, which is great," Jolly states proudly. "I am trying to exert less of those evils on myself these days."
Jolly, who is beginning to write for the next Sunset Valley record and preparing to do shows in support of Thanasphere, is content in life, a proud father, and happy of his latest solo album regardless of how it is received.
"I am most proud of the songs 'And the Earth,' 'Science of the Sun,' and the ending of 'Skins of Bears.' I am also proud of the acoustic guitar work," he says, seemingly ready to get out and play the songs live. "I'm proud that I was able to capture very strong vocal performances that did not need to be layered or have gobs of effects on them."
Jolly finishes up the interview by telling me "In March Sunset Valley will be recording a new record." He goes on to tell me that "it will kick the ass of our last record and many other asses as well."