The Wipers
3 CD Box Set [Is This Real? / Youth of America / Over The Edge] (Zeno Records)
By: Alex Steininger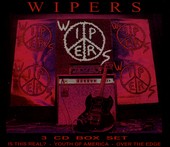 A 3-CD box set from punk rock legend Greg Sage and his outfit, The Wipers. Including the first three releases from The Wipers - Is This Real?, Youth of America, and Over the Edge- with bonus material spanning the same era demos and outtakes and alternate versions, as well as extensive liner notes from Sage himself. This is the definitive Wipers collection of their early years, a testament to the genius and groundbreaking sound of The Wipers, which would go on to influence countless musicians, most notably Nirvana's Kurt Cobain. It is safe to say that had their been no Wipers, there would have been no Nirvana. And punk, as well as rock music in general, would be completely different than how we know it now, both on an independent and major level.

From the then small logging town of Portland, Oregon, Sage turned the NW on its head, using feedback and guitar noise, punk ferocity, and feelings of alienation and discontent to fuel his now legendary sound.

Re-mixing the band's arguably most influential first three albums, and adding material (demos, outtakes, alternate versions) of cuts that never made the respective album they were originally written and recorded for, Greg Sage, via his own Zeno Records, helps further the legacy of these three punk rock classic. He goes so far as to educate the listener, even the most knowledgeable of Wipers fans, explaining everything surrounding the recordings, including that his few lengthy punk numbers on Youth of America were considered as uncool by punkers until the mid-80's, years after they were recorded.

Another bonus, you get to hear and see the albums as Sage wanted to present them, without label interference, including artwork, as the booklet contains artwork vetoed by the label, and the first CD restores Is This Real? back to its original song order. Is This Real?'s previous re-issues were tampered with without the band's consent or acknowledgement.

A stellar collection of some of the finest records ever made; here are three must-own punk rock standards. Sage has made it easy, and cheap, a combo that nobody should ignore. I'll give this an A+.