Nixon's Head
Take It! (Groove Disques)
By: Gary "Pig" Gold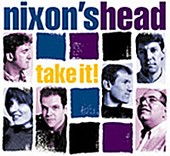 What IS it in the New Jersey water? Wait... better not answer that. But yet again, here comes another great NJ combo with sounds totally, inescapably Shore-worthy, if'n you catch my.

Nixon's Head's nifty little disc almost says it all right off the bat with track one, as sharp a slice of rock-pop as I've heard in ages so aptly titled "It's A Beautiful Thing." Shore... I mean, sure as heck is! And so is "Yeah Yeah Yeah" (early Cheepskates by way of even earlier Electric Prunes), "Kids" (someone's just GOTTA get this one Susan Cowsill's way, and quick!) ...why, things even go banging out at the end of it all with the utterly white-eyed soul-bop of "Ain't It A Crime."

Indeed, Seth, Mike, John, Andy and especially Jim are never ever afraid to turn their Vox amps past 10, and it's all luvingly flavored by the Katrina & The Attractions vocal/keyboard stylings of Dorothy Haug throughout. Suffice to say then, Nixon's Head has hearin produced what may very well be thee party platter of the new decade!