VARIOUS ARTISTS: Innocent Words
Small, My Table (Innocent Words)
By: Alex Steininger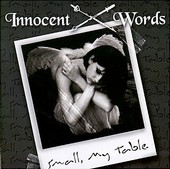 Innocent Words Magazine started last year and soon blossomed into a record label, after reviewing and interviewing a lot of Champaign, IL-area (Innocent Word's home base) bands without a record label. Their first release, Small, My Table, highlights its local area while through a few national and international acts into the picture, most notably Pearl Jam's Stone Gossard, who contributes "Pigeon", off of his Epic Records solo album.

Other notables include G. Lee & Jet Blonde's "Anyway"; a fuzzy, light rocker led by powerful female vocals, giving the band (and the song) an undeniable beauty. And the revved-up, lo-fi rock of Pinkston's "The Quitter In Me".

Also included, Absinthe Blind, former major league baseball pitcher Jack McDowell's Stickfigure, Satiiva, and Time Spent Driving all give their best to help make Small, My Table a strong debut for Innocent Words Records. I'll give it a B.