Pigface
Easy Listening (Invisible Records/Underground Inc.)
By: Alex Steininger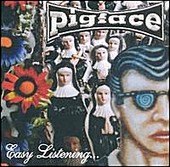 Boasting the most performers on one Pigface album, producer/label owner/songwriter/engineer/music mogul Martin Atkins' brain child, Pigface's latest, Easy Listening, is a thirteen track collection of some of Pigface's finest material.

Reuniting Atkins with Clash co-founder and fellow Public Image Ltd. member Keith Levene, Easy Listening takes you through the visceral and cerebral, combining sounds of the middle east with pulsating industrial. Fusing spoken word with mind-fucking lyrics. And marrying intoxicating percussion with assaulting guitars, as an array of vocals swim around in your head with varying degrees of acid flashback results.

This is a Pigface album to the last beat, changing like a chameleon with each turn, but somehow managing to sound both cohesive and, more amazingly, original.

Despite being their fifth studio album and 12th release overall, Pigface shows no signs of tiring or slowing down, Easy Listening a testament to their prowess as a collection, and Atkins' genius as a songwriter/producer/engineer and whatever else he has his fingers in at the moment. I'll give it an A-.