Playgroup - Partymix Volume One
Steinski - Nothing to Fear: A Rough Mix (self-released)
By: Mark Sullivan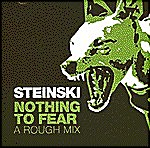 Playgroup's, AKA Trevor Jackson's recent contribution to the DJ-Kicks series was a traditional mix CD, a dancefloor friendly collection of tunes segueing one into the next. His new Partymix Volume One is a completely different affair, more in the tradition of Steinski's much shorter Lesson One: The Payoff Mix (which Playgroup excerpts here). In sheer volume of sources, Partymix shames such previous standards of sampling as Coldcut's Journeys by DJ, Cut Chemist and DJ Shadow's collaborations and even Kid Koala's ScratchHappyLand. While never losing its danceability, this is an amazing example of cut and mix, chopping and channeling bits from over 200 tracks into a smooth 58 minute flow. There is not a whole song in the bunch; few of the mostly instrumental breaks last longer than 20 seconds.

With a few well chosen oldies, Playgroup's DJ-Kicks exposed the ties between current electro and its roots in the clash when new wave first met disco just over twenty years ago. Partymix mines that earlier era. With very few exceptions, all of the material is from the late '70s and early '80s when so many different musical trends seemed to be meeting and mutating, especially on the dancefloors of New York clubs. The best of early hip hop can be briefly heard -- numerous Sugarhill and Tommy Boy artists, especially Grandmaster Flash and Afrika Bambaataa and Soul Sonic Force, plus Newcleus and many others-- and proto-electro -- "IOU" by Freeze, "Funkytown" by Lipps Inc, "Don't Ride the White Horse" by Laid Back and, of course, Kraftwerk. There's plenty of disco, just as it was reaching the tipping point and becoming house -- Shannon's "Let the Music Play," Indeep's "Last Night a DJ Saved My Life" -- or mixing with funk -- "Billy Jean" and Cameo, along with several Prince tracks. Trevor Jackson also throws in some new wave and no wave wildcards. Elvis Costello's "(I Don't Want to Go to) Chelsea" flits by, as do Yaz, the Contortions and even the Slits, with a relatively long sample from their great, demented version of "I Heard it Through the Grapevine" (however, doesn't his familiarity with this music make it clear that Jackson must have known about the earlier Playgroup, in Adrian Sherwood's stable on On-U Records?). And after the party is over, this disc will still keep you busy for hours and hours playing "Name That Tune."

The aforementioned Steinski also has a new mix CD. Coldcut offered their forefather Steinski an hour of their BBC show, Solid Steel, to fill however he pleased. A couple of years later, he came up with Nothing to Fear: A Rough Mix. For those ignorant of history, two decades ago, Steinski, with then-partner Double Dee, won a Tommy Boy contest with their remix of G.L.O.B.E. & Whiz Kid's "Play That Beat Mr. D.J." Their Lesson One: The Payoff Mix has far outlived its source material, even though it was never officially released -- couldn't get all of the samples cleared. Nothing to Fear had the same problem, although it was available as a bootleg even before it was first broadcast. While Steinski may play one song after another, just like any ol' DJ, these aren't exactly the same songs as those available on official releases. Each is what used to be called a "master mix." Radio DJs would take hit songs and play with them, adding tracks and subtracting others. Steinski is a master of addition and juxtaposition.

Comparing this to Coldcut's Journeys by DJ, it's easy to see the affinity between the teacher and his graduated students. They share a similar sensibility. Both show off a vast record collection, drawing from a wide variety of styles. Nothing to Fear offers everything from swing to old funk to Nelly's Country Grammar. Both Coldcut and Steinski have comprehensive libraries of spoken word samples, too. Steinski prefers snippets from movies and comedy albums. Wave as Steve Martin, Bill Cosby, the Marx Brothers and others quickly pass by. Steinski also has the rare ability of using just enough to be distinguishable, but not so much that it ruins repeated listenings, like a joke heard a time or ten too many. As with Playgroup's Partymix, you can play name that sample. But both mixes work first and foremost as great music and partymixes. A for both.