INTERVIEW: Martin Atkins
Founder of Pigface, Invisible Records, and the Indie Label Collective, Underground Inc. (Underground Inc.)
By: Alex Steininger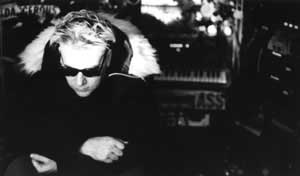 "Friends don't let friends start labels," says the weary and pessimistic Martin Atkins, with good reason. Having worked in the music industry for over 25 years, Atkins knows what indie labels and musicians are up against. He's played on "American Bandstand" with Pubic Image Ltd. (which featured a post-Sex Pistols Johnny Rotten aka John Lydon fronting the band). He's toured relentlessly, recorded, engineered, and mixed countless bands, writes and records his own music, runs a successful studio, and owns and operates his own indie label, Invisible Records. If that weren't enough, the industry mogul also runs Underground Inc., a collective of independent labels, much like his own Invisible Records, that gives truth to the saying "strength in numbers". So it is without hesitation or doubt that someone should believe him when he says that starting an indie label is the worst thing they could do.

"Members of Thrill Kill Kult were thinking of starting a label and I called them up and said, 'Holy fucking shit, for all that is holy, don't start a label. Or if you do, let me help.' But that is just one premise behind Underground Inc. There are many premises."

"I feel like the human sacrifice," Atkins later explains. "I never get to sit in my studio and write songs. Instead I sit in the office and work on cash flow, distribution, and leverage. Three years ago I recorded, mixed, and produced the entire Damage Manuel record almost entirely myself. I can't do that all myself now. The days of me sitting in the studio with Meg Lee Chin for fourteen hours a day is gone. Now, I divide my day between the studio, working in the office, and running around. I'm just bouncing all over the place."

"I've been chained to the studio since 1979," he continues. "I feel personally that I want to spend more time in the studio, but that's not where I should be now."

Underground Inc. offers a variety of services to labels and bands that join its roster. The label negotiates contracts for bands, including contracts with producers who remix their bands' labels, ensuring that every little detail is covered, including such seemingly small things like wording the contract so bands only pay for remixes they use, a costly mistake that has been made by more than one band that has crossed Atkins' desk.

Atkins also offers consultations and advice to his roster, telling Underground Inc.-affiliated bands and labels the truth, even if they don't want to hear it, preparing them for what to expect, and sometimes lowering their expectations to a more realistic frame of mind. He also helps with guidance, promotion, and setting up tours.

"If you've put out one record, you don't know what the fuck you're doing. If you've put out fifteen, you still don't know what you're doing. It's not until you've put out more than twenty-five or so you get a handle on things. I've put out more than three hundred records, so I've learned a lot over the course of that. I'm able to pass this knowledge on to bands and labels so they don't waste their money.

"An example would be Aron's Records in L.A. If you don't have people to go into their store and see what your co-op dollars are paying for, you don't know that they don't give a shit and just take your money and do nothing with it. You call and even the employees don't know what you're talking about. They just take your money.

"Through the course of releasing all these records, I've been able to learn that they don't care, so I can avoid them. If you only have a few releases on your label, you don't know things like that. However, there are programs that do work, and I'm able, through experience, to pass this on to the labels and bands we work with. The Alliance of Independent Music Stores (A.I.M.S.) is great. It's run by Eric from Criminal, which is a great record store in Atlanta. Running programs with them works, and I can pass that info on to the labels."

"There is a poetry to the music business. I think we're getting better and better at understanding it and doing what we do in a constantly changing environment. People are firing live rounds at us and we're dodging them," he says with optimism.

Underground Inc., much like everything else Atkins has done, has grown from one man - himself - to include a well-trained stuff, street team members, and a huge roster of bands.

With a nice-sized staff, over 300 kids across the U.S. acting as field reps, and over 100 bands, Underground Inc.'s "strength in numbers" theory seems to be paying off big for them.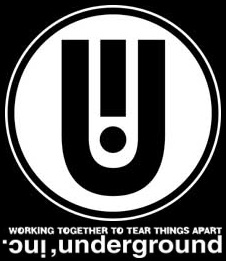 Another lesson Underground Inc. is eager to teach to its bands is the distinguishing factor between indies and labels, preparing those who wish to seek major label support for the next level of their career. This, however, comes with a lot of hurt feelings and arguments, something Atkins has been through time and time again.
Pounding it into the bands' heads that major labels are not going to let them do whatever they want, and are going to try and shape their sound for commercial purposes, Atkins has sat down with many artists and critiqued their recordings. Telling them what they need to do and how they should do it.
His comments have ranged from the minor to the radical, sometimes breaking down an artist's song just to rebuild it the way he feels it will work. And that is where he meets the most resistance.
"If you want to make radical changes to someone's album you fucking better have a hell of a good response to tell them," he says of some of the conflicts he's found himself in over a clash of ideas.
To Atkins, though, his "tough love" approach is helping the band, even if they don't realize it.
"I've had A&R guys tell me they were listening to the record in the car with their girlfriend and she thought it would be a good idea to add violins to one song! The A&R guy's fucking girlfriend wants us to add violins to our song," Atkins says without any resentment, realizing it's all part of the game. "But if you can't stand up for yourself, you're probably going to tell the A&R guy yes and you're going to fail because you're always going to give in. Sticking up for yourself is not telling everyone to fuck off, it's about being subtle. If you can't do that, don't go to a major label. There are rules and games you have to play to be on that level. And we can prepare you for that. Bands like Butthole Surfers, who were allowed to do whatever they want on Touch and Go then jumped to majors and weren't allowed to do that anymore and failed."
Atkins' cold, hard reality has helped quite a few bands, as anyone on Underground Inc. will attest. It is those bands that don't listen, or refuse to believe Atkins, that Atkins wants to avoid.
"People think I was on 'American Bandstand' with P.I.L. and then started a studio, but I've been in the music business for 25 years doing it all," Atkins states matter-of-factly. "Fuck, I've toured with Spinal Meningitis, Hepatitis B, and in vans with no brakes. I've done it and so I speak from experience when I tell a band things. Either they get it or they don't. We have safety checks in place and spot the bands a lot quicker now than we did before, the bands that aren't going to tour or work."
These safety checks are put in place to avoid bands that don't want to hear the truth about the industry, don't want to work, and want to learn their lessons the hard way. One major safety check in place, which has worked tremendously well in a number of instances, is the Notes From Thee Real Underground compilation series. Atkins has established it to work with bands he finds to be interesting and vital, and to see if they're up for the task of developing an on-going relationship with Atkins and his companies.
"I put bands on the Notes From Thee Real Underground program first. It's a compilation we do where I take a band into the studio and record one song. We then put it out and see how the band networks with other bands on the compilation, the label, and how hard they tour. It's basically a way for us to give a chance to a band to see if we want to work with them more," he explains. "I set up the program to protect myself. I had one band, I took them into the studio to record a song and they went MIA after we recorded the song. I was so happy because I learned that we shouldn't work with them anymore because they're not going to work. It beats finding out quickly rather than after spending three months of my time recording a full-length for them."
However jaded and blunt Atkins may be about the business of music, when it comes to recording and playing music, Atkins is all smiles. His band Pigface celebrated the release of their fifth studio album (12th release overall) on January 28, 2003. A collection of thirteen tracks, Easy Listening goes from acid-soaked dance songs, hard industrial, and electronic grooves to daunting, spacey compositions and even spoken word tracks. It also reunites Atkins with Keith Levene, PiL's guitarist and Clash co-founder, as well as boasting the most musicians ever on a Pigface album.
"I have been working on Easy Listening for about a year," Atkins informs me. "In the beginning I don't know if I intended to make a Pigface record and then, before I knew it, I had thirty songs. It started to come together. I'm not sure when that happened, because people just came in and helped out. There was constant activity, though."
"I got lost in (the recording of Easy Listening), which I really liked. I got ideas out of my head. Then I'd come up with other ideas, or other ideas would happen in other ways, so I'd run to other studios to get a clearer view of what I wanted and what I was doing."
"The tour, the new record, those things keep me going. The stuff that bogs me down is just nuts and bolts stuff," he says, forgetting the hectic workday of running an indie conglomerate and cheering up when it comes to thinking about his music. "It feels great to be the most excited I've ever been about an upcoming tour and a record. I'm very excited about the upcoming Pigface record and the United Tour featuring Pigface, Thrill Kill Kult, Zeromancer and Bile. The tour is forty-two shows in forty-two days and then we go to Europe for twelve shows and may add some shows when we get back.
"Nobody is going to help me if I don't help myself," asserts Atkins. "Triumph in the face of adversity is my new slogan."
Look out for the United Tour, which begins on March 13th in Milwaukee, WI and ends April 20th in Chicago, IL. Tour dates are available at www.undergroundinc.com.