Visqueen
King Me (Blue Disguise Records)
By: Alex Steininger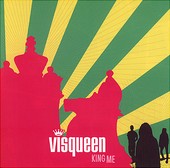 Fronted by Rachel Flotard, and propelled by the rhythm section of Ben Hooker (drums) and ex. Fastbacks front woman Kim Warnick (bass), Seattle's pop-punk trio Visqueen deliver a brilliant debut with King Me.

Following the demise of their outfit Hafacat, Hooker and Flotard began jamming in a rehearsal space, not sure of their next move. Eventually hooking up with Warnick via mutual friends, Visqueen was born.

Entering the studio to record a record, Visqueen scrapped the original full-length they recorded, claiming it was too produced and over wrought to release.

Warnick soon disbanded The Fastbacks, which she fronted for more than 25 years. A devastating ring was heard throughout the rock community, but the blow was softened with Warnick's commitment to Visqueen.

With Warnick completely dedicated to Visqueen, the band went in and re-recorded the record, this time playing live with little overdubs, hammering through the recording and mixing process in only a few days.

The result is the live wire King Me, a 10-song collection lasting a mere 27-minutes, going out as quickly as it came on.

And though pop-punk is the best term to describe the record if you haven't heard it, unlike Southern California skate kids' version of pop-punk, Visqueen's songs are mature, more straight ahead rock 'n' roll than punk, but still punked-out power-pop.

Flotard's lyrics are ones you don't mind singing along with (which is inevitable, mind you). They're well-thought and speak to the 20 and 30 something's more than the fabricated teen angst of the suburban knock-offs that pass for pop-punk these days.

King Me is a solid debut, a mesmerizing collection of unbeatable pop, timeless rock gems that will outlive the CD format and live long past the years of the CD's replacement. I'll give it an A-.