Black Keys
Thickfreaknees (Fat Possum/Anti)
By: Alex Steininger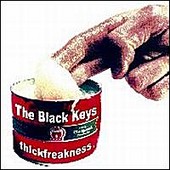 Akron, Ohio's The Black Keys, a duo comprised of Dan Auerbach and Patrick Carney, follow-up their critically lauded debut, The Big Come Up (Alive Records, 2002), with their Fat Possum debut, ThickfreaKness. The Big Come Up was praised by Rolling Stone, Mojo, The Village Voice, and The Los Angeles Times as one of the best debut album in years, and ThickfreaKnees will surely make several top ten lists, too.

As authentic as they come, The Black Keys' lead singer/guitarist Dan Auerbach's voice is dead-on, sounding like a sixty-year-old black man fronting a rock band that knows how to play the blues.

Recorded in one 14 hour straight session, Thickfreaknees is sweaty, gritty, raw, and ultimately real, an unstoppable blues-rock collection that puts to shame all the others. Mustering up a powerful sound with just a two-piece (using only the guitar, drums, and Auerbach's voice, save the occasional organ), The Black Keys are more powerful than quartets attempting the same thing.

On top of that, their songwriting is better than the rest. The band is able to play some of the rawest blues-rock you've ever heard, and then, somehow, somewhere, pulling a memorable hook out of the air and throwing it your way, coming full-circle as they turn a raw song into a melodic sing-along for a brief second.

This is what rock 'n' roll should be, and now, thanks to The Black Keys, is. Though it is only February, The Black Keys might prove to be one of the most innovative breakouts of 2003. I'll give this an A.