Blues Goblins
Blues Goblins (Off Records)
By: Alex Steininger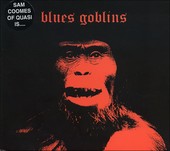 Taking a break from Quasi while co-conspirator Janet Weiss goes off to drum for her other band, Sleater-Kinney, mad genius Sam Coomes has recorded his first solo effort under the moniker the Blues Goblins.

As the title implies, Coomes leaves the world of pop behind, diving head first into electric blues, playing it with all imperfections in tact - dirt, grit, swampy, muddy guitar tones, and a wild abandon approach to each and every song.

Resurrecting the souls of Skip James, Muddy Waters, Leadbelly, Howlin Wolf, and Robert Johnson, to name a few, Coomes places himself into their minds as he picks up a guitar. Adding some indie-rock flare, he plays the blues as the aforementioned would have had they recorded the record in the rainy northwest after a few critically lauded indie-pop masterpieces.

Unlike other 'blues-rock' records, Coomes nails the blues, calling upon the rock, in this case lo-fi indie-rock, to break things up and keep them interesting, instead of using the rock as a crutch to get him from one song to another.

Each song is frighteningly beautiful, Coomes' scruffy voice howling the words to his favorite blues tunes, as his guitar buzzes, burning from note to note, the muddy, feedback-rich sound creating a cloud of smoke for Coomes to bellow through.

Things get most interesting, and most unsettling when Coomes enlists more than just his guitar, adding percussion that ricochets through the song, the noise, the wailing sound of the drums' ferocity feverishly matching that of Coomes, and Coomes' guitar.

That is when things get most rockin', when Coomes lays it on thick, pulling back no punches as he stomps his way through gutsy blues that just crawled out of his soul. To make things more interesting amidst the covers, Coomes pens one original, the creepy "Pedro's Boogie", an experimental rock intermission, the most non-blues cut on the album, but a great lead-in to Robert Johnson's "Hellhound On My Trail".

Coomes' voice never reaches the depth of the artists in which he covers. However this works to the benefit of the album, his new take, his reserved, contained growls and scratchy, non-throaty singing style stamping the 'rock' of the 'blues-rock' on the album, while the instruments, and the instrumentation created by said instruments, match the depth and somberness of the originals.

Coomes' first solo outing is the furthest thing from Quasi one could expect. Coomes seems to rejoice in that fact, letting go of all expectations and ambitions as he lets his guitar and voice do the thinking for him, the music pouring out of his body as he plays the worries and fears away, sweating out the pressures of expectation. The result is an album that defies anything he's done before, putting all the stresses of writing the next Quasi record aside and just having fun. I'll give it an A-.