The Bubbadinos
The Band Only A Mother Could Love (Zerx)
By: Gary "Pig" Gold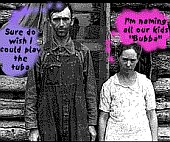 As it sez right there on the slip cover, "Ultra Americana Deluxe." And may I just add to that, here and right now, that these here Bubbadinos continue to explore the EXTREMELY-alt.Western kinda canyons even Johnny Dowd merely peers down every now and then.

Focal point, as always, is the slip-jawed Tom Waits-ery of Mark Weber's lead vocals, not to mention covers of traditional slices of, yes, Americana ("Clementine" and "Yankee Doodle," f'rinstance) which you're surely not about to hear filling pre-newscast holes on NPR anytime during our particular lifetimes. Speaking of which, the "You Are My Sunshine" included rivals even Dennis Wilson's "Smile" treatment of same, while "Singing The Blues" and Steve Earle's "The Mountain" can quite possibly even be considered definitive.

Check out each bandmember's solo spots as well (especially the Jimi-thru-the-spooking-glass "Goin' Home" and, I kid you not, "Amazing Grace" gone flamenco!) Only during this disc's concluding minutes do "The Big Offramps Of Life" and "Party Line" hint at the band's big, cinemascopic-wide "Sgt. Bubbadino" sessions to come, but the other fifty-odd minutes provide more than their fair share of Uneasy Listening Pleasure as well.

Turn it on, tune in, drop far out.