Darren Hanlon
Hello Stranger (Drive-In Records)
By: Alex Steininger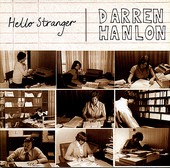 Australian-based singer-songwriter Darren Hanlon made a living as a side man before stepping out on his own in 1999, releasing an EP entitled Early Days in 2000. Finally following up the Early Days EP with a full-length, Hanlon's debut, Hello Stranger, combines folk-rock with a genuine knack for writing inviting, gripping pop songs.

Hello Stranger isn't an immediate listen. However, Hanlon's songs are accessible enough that by the second or third listen the lyrics and music both fall into place in your mind and start to make sense. Hanlon's roundabout way of phrasing lyrics and telling a story coupled with his alt-country (at times) flavored folk or more pop-centric tunes coming full circle and hitting you dead center. I'll give it a B.