Intercooler
Old School Is The New School (Rhythm Ace Records)
By: Alex Steininger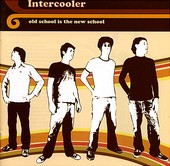 Australian indie-rock influenced by Brit-pop, Intercooler scores big with Old School Is The New School, a succulent rock record steeped in pop, thus laden with hooks and plenty of sing-along moments to boot. From the tongue-in-cheek track "Emo" through the straight ahead "Crimson Cracker", Intercooler plays guitar-rock well, showing their influences, but combining them well enough that you have to think about it before you start calling off influences.

The songs have the chops, they have the words, and the melodies are ever present. Intercooler keeps you entertained throughout, the forty-two minutes of the album consumed by their guitar-fueled rock 'n' roll fun. I'll give it a B.