Little Sue
The Long Goodbye (Littlesue.com)
By: Alex Steininger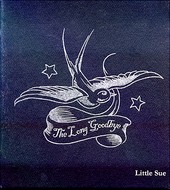 The Long Goodbye, the latest from Portland troubadour Little Sue, is a sensual, lingering kiss after an exceptional first date. You don't know what you're getting into until it's too late. And by then you're either wishing you were somewhere else or having a blast. The Long Goodbye eases you into it, makes you feel comfortable, and before you know if you're having a good time as Sue Weaver (aka Little Sue) spins tales of heartache, loss, loneliness, and love.

Her pensive take on relationships, as she draws from her own experiences, become warming, wrapping around you like a blanket, as you re-live your own similar experiences and share in the outcome with Weaver.

Country-tingled acoustic folk songs, Weaver's songs are musically broad, able to fit into the definition of pop, while also encapsulating the aforementioned genres. It's a rare feat that an artist can so easily blend and fuse the poise and beauty of three vastly different styles, but Weaver, up to the task, does so without a blink of the eye. Which makes The Long Goodbye a late night, rainy day, and romantic listen. I'll give it a B+.