Loose Fur
Loose Fur (Drag City)
By: Cam Lindsay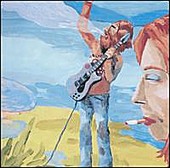 After waiting three years to get last year's Wilco album (that is an actual copy in your hands), Yankee Hotel Foxtrot, key members Jeff Tweedy and Glenn Kotche have returned immediately. Well, kind of. Joining them is a master of both pop and avant-garde arrangements, the one and only, Jim O'Rourke. Since he produced YHF, this alliance feels a little familiar, yet a Wilco album with O'Rourke guesting, this is not.

Loose Fur is actually older than YHF. It's over three years old and was shelved in favor of the Wilco project. Now, this freeform meeting of three minds is finally set free to enjoy. The six songs (which run for over 40 minutes) follow O'Rourke's experimental sense of direction, yet they are done without denying Tweedy his musical taste. "So Long", for instance, follows the guitar work O'Rourke practised with Sonic Youth last summer, yet Tweedy and Kotche manage to sneak in some welcom harmonies. "Laminated Cat", a song Wilco included in some of their live sets, is the closest a fan is going to get, but it's still more like their recent material than anything earlier. "You Were Wrong" also shows signs of pop with Tweedy's voice in fine form. O'Rourke's added touch on the guitar is typical of him, but it seems to flow nicely with the tune instead of sticking out like a sore thumb.

Loose Fur is well worth the journey for fans of both parties involved. It's an interesting clash of ideas that isn't exactly easy to get on the first listen, but thankfully, it does manage to get easier and better with each listen.